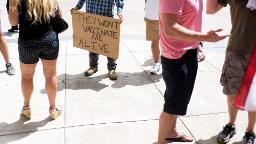 Here's what I mean by "overlapping misinformation:" An attorney representing many high-profile suspects from the January 6 riot — a riot of lies — has apparently been hospitalized due to Covid. The California-based attorney, John Pierce, has not been showing up for hearings "after reportedly becoming ill with Covid-19," CNN's Katelyn Polantz
reported
, citing DOJ filings. Prosecutors said they believe he "may be in the hospital and that his absence has effectively brought several cases to a standstill."
"Prior to his reported health issues,"
ABC's team reported
, "Pierce pushed conspiracy theories surrounding the insurrection on his Twitter account, where he also espoused anti-vaccination conspiracy theorists." See? Overlapping misinformation.
Another example was in the news last week: Arizona's sham election "audit" report was delayed after the Cyber Ninjas CEO and others tested positive for Covid-19. CNN's team noted that the "Ninjas" were often seen without masks, and it was "not clear whether those who tested positive had been vaccinated."
Disbelief in election results and distrust of the vaccines are
connected
. One of the connections is an utter lack of confidence in institutional sources of information. One of the consequences is a pandemic that could have been brought under control by now. Which leads me to this new poll…
Losing trust
Overall, Pew found, 58% of US adults say they have at least some trust in the information from national news outlets. "This is the smallest share over the past five years this question was asked," Pew said.
The United States is one country with two almost completely separate media ecosystems. These ecosystems have different values; prioritize different subjects; and reach different populations. It's getting almost impossible to appeal to both…
Democrats believe; Republicans disbelieve
Here's another way to slice the Pew data: "78% of Democrats say they have 'a lot' or 'some' trust in the information that comes from national news organizations — 43 points higher than Republicans. This partisan gap is the largest it has been over the past five years this question was asked."
The "flooding the zone" strategy includes a never-ending Fox News narrative about Big Media and Big Tech censoring and hurting and destroying everyone in its way. People who don't watch Fox every day don't understand what it's like to be told, by people you respect, that every other source is biased, ergo you can't trust anything.
The propaganda is incredibly effective. Fox didn't have any reporters in Afghanistan when Kabul fell to the Taliban, but Fox loyalists "knew" not to trust the national news outlets that actually did have journalists in harm's way covering the story.
View from the left
View from the right
View from the inside
Roig-Franzia documented how she produces "an avalanche of content" across radio, TV, print, and digital. "She connects with listeners by deploying a polished delivery, citing a blizzard of data, then pivoting for effect to the cadence of her backwoods youth," he wrote. So Loesch's Second Amendment absolutism and vaccine skepticism comes in between "anecdotes about family life, pop culture references, silly news briefs and updates about the latest medical woes of her pets."
None of it, of course, is newsroom-based. And that's probably the most important point to make. The GOP's world of media excels at talking-about-the-news, not gathering or processing the news. Bashing the rest of the media is a lot cheaper and easier than sending reporters on assignments. The result is a form of media illiteracy rather than the literacy that's desperately needed.
Related notes and quotes
Bottom line: Goodbye, common set of facts
CNN media critic Brian Lowry writes: "When I read those Pew poll results, I couldn't help thinking about two men who have left us but who planted the seeds for the right's wholesale rejection of mainstream media: Rush Limbaugh and Roger Ailes. The conservative radio host and Fox News founder both had a clear profit incentive built into their formula, which Trump, and others, have taken and run with. By discrediting other forms of media, they cemented bonds to their audience. The other legacy of that, far more problematic, is the destruction of a society that can agree on a common set of facts regarding challenges and crises we face, much less how to address them."