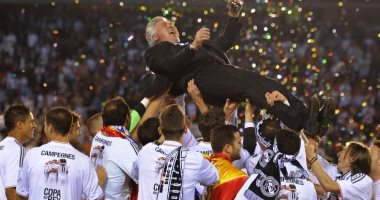 Italian Carlo Ancelotti, coach of the Spanish club Real Madrid, arrived for the 800th match in the European leagues during his training career with the various major clubs he trained in the old continent.
Ancelotti achieved this achievement after leading Real Madrid to a fatal victory over Valencia with two goals against a goal, in the match that brought the two teams together at the Mestalla stadium, in the fifth round of the "La Liga" competition for the current season..
The Italian coach led Real Madrid in 81 matches in the Spanish league, including 76 between 2013 and 2015 during his first training period for Meringue, in addition to 5 matches since his return to lead the royal team again starting from the current season 2021-2022.
Ancelotti began his coaching career with first-class clubs in 1996 with Parma, where he led him in 68 matches in the Italian League, and then managed teams: Juventus (84), Milan (283), Chelsea (76), and Paris Saint-Germain (57). ), Bayern Munich (40), Napoli (53), and Everton (58).
Ancelotti scored 474 victories and 183 draws, while the Italian coach received 143 defeats in the confrontations he fought with clubs in the European leagues.
Ancelotti won the league title in the five major European leagues, specifically in England, Italy, France and Germany.
For his part, Real Madrid coach Carlo Ancelotti confirmed today, Monday, that he is having a "honeymoon" with the royal team, and that he hopes to continue in Madrid "for a long time" thanks to the positive results..
Ancelotti said, "I had a honeymoon with Real Madrid and I hope with the results to continue for a long time," during his intervention with a program broadcast by the Italian radio station (Radio Rai) after the 2-1 victory yesterday, Sunday, against Valencia at the latter's stadium..
He added, "We started well, with some difficulty, like all the other teams, but we are confident, we were able to adjust the result thanks to our personality."
The Italian coach confirmed that the team has been going perfectly since the beginning of the season, noting that "the riyal is a competitive team because of its history" and not thanks to the work done by the coach..
Real Madrid is currently at the top of the league standings with 13 points, two points ahead of Atletico Madrid, knowing that the traditional rival Barcelona (7 points) played two fewer games..