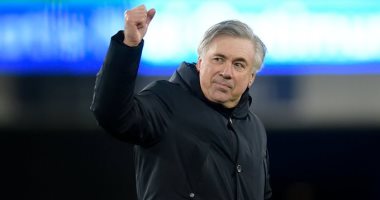 Real Madrid coach Carlo Ancelotti expressed his great happiness after defeating Real Mallorca 6-1, in the match that brought the two teams together on Wednesday evening at the "Santiago Bernabeu", as part of the sixth round of the Spanish League championship for the current season 2021. / 2022.
"We started well, scored early and controlled the match," Ancelotti said during his post-match remarks. "We needed that rhythm, but we need to work on defending more."
He added: "We played against an attacking team and we had to take risks in the match. Benzema and Vinicius are playing well, and Rodrygo was also dangerous. I think he was dangerous, as well as Asensio when he comes from behind. They played a good attack offensively."
He continued, "I put my experience in the team. I give everything I can with experience and confidence. I am fortunate to coach a brave team of high quality and learn quickly."
He continued: "In the team we have a great mix of experience and youth, the quality of the youth is very high, experience is a very important element in football, I like that those who play a little and are ready, Isco, Asensio and Jovic, it is a very good sign."
Real Madrid vs Mallorca
Karim Benzema opened the match goals early after only 3 minutes, and Marco Asensio scored the other two Real Madrid goals in the 24th and 29th minutes, while the only goal of the guests came in the 25th minute through player Lee Kang.
In the second half, Asensio scored a fourth goal for his team (hat-trick) in the 55th minute, and Benzema added the second for him and the fifth for the Royal in the 78th minute, before Isco concluded the match goals in the 84th minute.
Real Madrid entered the match with the following formation: Goalkeepers: Courtois / Defense: Miguel – Alaba – Militao – Nacho / Midfield: Valverde – Camavinga – Asensio / Attack: Vinicius – Karim Benzema – Rodrigo Goss.
With this result, Real Madrid is at the top of the Spanish league standings with 16 points, two points behind runner-up Atletico Madrid, who has 14 points, while Real Mallorca is in the tenth place on the table with 8 points.