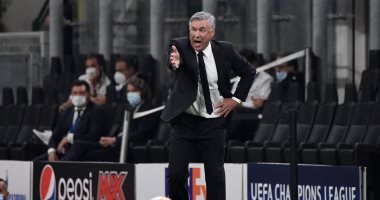 Real Madrid coach Carlo Ancelotti confirmed that his players deserved to win against Inter Milan, given the good performance they performed throughout the meeting, which brought the two teams together on Wednesday evening, at the Giuseppe Meazza stadium, in the first round of the Champions League competition. Europe in the current season 2021-2022.
real Madrid

Ancelotti spoke in the press conference after the end of the match, saying: "This victory deserved by the players because they worked well, and when we made the changes, the change was clear in the performance and the result."
He added, "The first half was complicated, but in the second half we were better, the team had a good presence, and with Rodrygo's entry, we played better in the spaces."
He continued, "Coming out with a clean sheet makes us gain more confidence in the defensive side. The defensive line was great, and Courtois saved us a lot. In general, the team did a good job."
He continued, "It was a physical match. Inter was better in the first half, but we were better in the second half. The physical level of the team was great. Vinicius, Casemiro, Camavinga and Valverde made a great effort."
Regarding Hazard's non-participation, the Italian coach said: "I thought about bringing him in, but I chose Rodrygo to open the stadium."
real Madrid

A negative tie dominated the events of the first half, and Inter Milan was the best in terms of possession of the ball, and it posed a great danger to Courtois, Real Madrid's goalkeeper, who saved more than one dangerous ball.
On the other hand, Real appeared far from its level, and lacked offensive solutions, in light of the distinguished level presented by the Italian team during the first 45 minutes of the match.
In the second half, the young Brazilian Rodrigo scored the winning goal for the royal team in the 89th minute of the match, after following the cross of Frenchman Eduardo Camavinga.
In the same group, the Moldovan Sherif team defeated its Ukrainian guest, Shakhtar, 2-1, to lead the group on a goal difference from Real Madrid, after the end of the first round of the group stage.