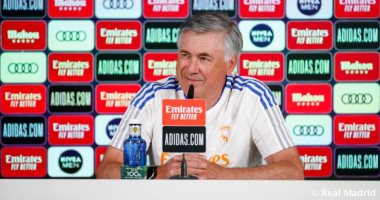 Real Madrid coach Carlo Ancelotti confirmed that the match against Valencia scheduled for Sunday evening, in the fifth round of the Spanish League, will be difficult and strong on the physical level, and that the competitor is going through a good level at the beginning of the current season.
Ancelotti spoke in the press conference for the meeting, saying, "What worries me in tomorrow's match is that Valencia is playing well, as well as a physical team. We must prepare well because we will play against a team that does a good job."
The Real Madrid coach added, "My team is in good physical condition, and the proof of that is our great performance in the second half of every match, but we have to improve our entry into the match."
Regarding Hazard's absence from the last Inter match, the Real Madrid coach said, "He did not play in the last match because of knee problems, and he felt that in yesterday's training as well, and we have to be careful because of his injuries in the past, he cannot play two games in a row, but I see him confident and hopeful." Everyone is back to their best."
The Italian praised Camavinga's speed of adaptation, saying, "Camavinga's adaptation surprised me, we know his quality, but he has a strong personality and he showed it on the field, he is confident in his abilities."
On the date of Gareth Bale's return, Ancelotti said: "We still do not know how much he needs to recover, before the injury he was good with us and with his country, I hope he returns quickly."
Real Madrid won a big victory in the last round against its guest, Celta Vigo, 5-2, in the first appearance of the royal team at the "Santiago Bernabeu", since it was closed in March 2020, due to the comprehensive renovations.
Real Madrid leads the Spanish league standings with 10 points, ahead of Valencia, who has the same number of points.