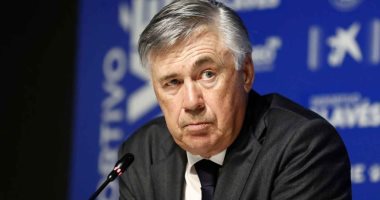 Real Madrid coach Carlo Ancelotti expressed his disappointment after his team's goalless draw against Villarreal during the match that brought the two teams together, today, Saturday, at the "Santiago Bernabeu" stadium, the stronghold of the Royal Club, in the seventh round of the league competition. Spanish "La Liga".
Ancelotti said, during the match press conference: "We tried to create chances with individual solutions, but we did not harm them.
He added: "It was not our best game this season, it is true that Villarreal had more possession of the ball, but they were passing it in the back."
Ancelotti praised Belgian goalkeeper Thibaut Courtois after his brilliance, saying: "We are lucky to have a goalkeeper like Courtois, he did a good job, he, Militao and Alaba were great and came out with a clean sheet, this is positive."
With this result, Real Madrid maintains the top of the Spanish League with 17 points, 3 points behind runner-up Seville with 14 points, while Villarreal comes in tenth place with 8 points.
Real Madrid opened the season with a 4-1 victory over Alaves, then tied with Levante 3-3, then achieved a difficult victory over Real Betis with a clean goal, then swept Celta Vigo 5-2, before they managed to overcome the obstacle of Valencia with a score of 2 1, and beat Mallorca 6-1 before a draw today.
The two teams met in 43 matches, Real Madrid managed to win 24 matches, while Villarreal settled in his favour, four matches, and tied in 15 matches.