He loved the pharaonic details and their colors since his childhood, so the happiest moments of his life were sitting next to his father while he sculpted replicas of famous pharaonic statues. Pharaonic temples, and his works traveled abroad as souvenirs bought by a tourist to give to his friends.
The young sculptor, Mohamed Ahmed, who holds a diploma from technical secondary school, spoke about his talent for carving pharaonic statues, for "The Seventh Day", where he said: "I learned to sculpt counterfeit Pharaonic statues from my father, because I saw him sculpt and worked with him, and I loved sculpting Pharaonic statues because they It is full of beautiful technical details, and also because it is a special field and no one can work in sculpting it, because there are not many people working in this field, and very few professionals in it, so I was able to prove myself in this field.
Muhammad carved many statues of well-known Pharaonic figures, as he said: "Carving statues of many Pharaonic personalities, including King Tutankhamun, Amenhotep III and the mummy of Amen Ra, various Pharaonic families, and other famous Pharaonic figures, through which I highlighted my artistic talent in sculpting." .
He continued, "There are no difficulties with me sculpting Pharaonic statues, but the only problem that I encounter at work is that the prices of the materials I need for sculpting are a little expensive."
The statues of Muhammad spread in some series, and I traveled to some European countries as souvenirs or decor, where he said: "Praise be to God, he asks me to work in foreign countries like France and Germany, and I participated in the decorations of series such as the series Eagle of Upper Egypt and Mount Halal, art programs and designed souvenirs."
And about people's comments on Muhammad's artwork, he said, "Praise be to God, people love my work, and I am very happy with their comments, and they encourage me to continue my work, and thank God, there is no competition for me until now, not arrogance, but confidence in my work."
Muhammad dreams of achieving more wishes on the ground, which he talked about, saying, "I myself have a big place in which to display my work, and design miniature models of pharaonic tombs and temples, and my work is spread everywhere and I remain famous."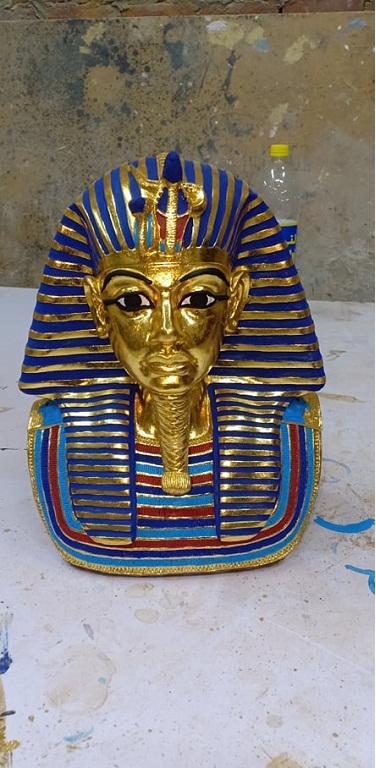 One of Muhammad's works