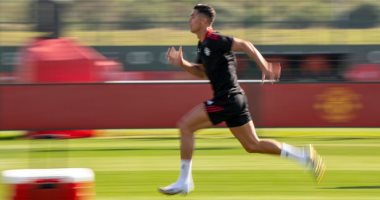 Portuguese star Cristiano Ronaldo does not tire and does not get tired of breaking records and setting new challenges in mind, after the challenge he took with Juventus after his departure from Real Madrid to return again with a new challenge with Manchester United, his former team in the English Premier League.
Cristiano Ronaldo seeks to continue setting records, as he aims to break a new record in the English Premier League, especially the record recorded by former Manchester United player Teddy Sheringham, who scored 32 goals after he exceeded the age of 36, scored in the Premier League.
According to "Transfer Market", Teddy Sheringham is the biggest scorer in the Premier League era, as he played until he was 40 years old in the tournament. The English player is the first competitor to Ronaldo – the 36-year-old – in challenging the age group and scoring goals in the Premier League.
In view of Ronaldo's first period with Manchester United, which witnessed the beginning of his glow, and obtaining many titles and championships with the Red Devils, he also won the title of top scorer in the league with 31 goals in one season, and Ronaldo played 196 games, during which he scored 84 goals.
Ronaldo is preparing to lead Manchester United against Newcastle in his first appearance in the English Premier League.
Manchester United will face Newcastle United at 4:00 pm today, Saturday, at Old Trafford, the stronghold of United, as part of the fourth round of the English Premier League for the current season 2021-2022.