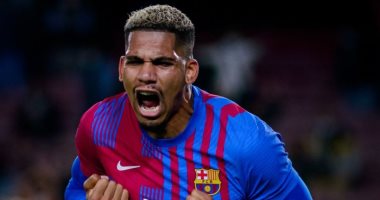 The Uruguayan, Ronald Araujo, Barcelona defender, who saved his team from a decisive defeat against Granada in the meeting hosted by the Camp Nou stadium on Monday evening at the end of the fifth round of the Spanish first division "La Liga", which ended in a 1-1 draw, that " The Blaugrana played a great match", despite the result of the draw.
Araujo gave an interview to the network (Movistar Plus) after the match, in which he said: "It is a sad result because we wanted to get the three points. I think we played a great match."
Nevertheless, Araujo criticized the "lack of concentration in his team" in the air balls, which was the reason for Granada's goal, which was scored by Domingos Duarte, just two minutes after the start of the whistle. ".
The Uruguayan defender expressed his happiness with helping his team avoid defeat in front of the guests, saying: "I shot 3 very clear headers, I am happy because I helped the team with the goal I scored. My first goal is to defend and keep the net clean, and if I can score goals, that is better."
Araujo expressed his displeasure for "wasting a lot of time" on the part of the Granada team, but stressed that if the goal came early, they could have turned the tables on the guest.
Barcelona raised its score to 8 points to occupy the seventh place in the table of the Spanish League, while Granada comes in the seventeenth place after raising its score to 3 points.
Barcelona had suffered a heavy defeat against Bayern Munich 0-3 in the match that was held on Tuesday evening at the "Camp Nou" in the Group E matches of the Champions League for the current season 2021/22.