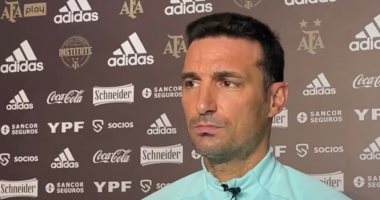 Argentina coach Lionel Scaloni confirmed that what happened in the last Brazil match was a strange thing, noting at the same time that the crisis of joining the English Premier League players should not be repeated in the upcoming international break next October.
Scaloni said at the press conference for the Bolivia national team match on Friday morning in the World Cup qualifiers:Today we will hold the last training session if we can because of the rain, we have to decide who will replace the players who are not with us (the Premier League quartet)".
Regarding the crisis that occurred in the Brazil match, Scaloni said: "The feeling that was shown by the entire football world, which was expecting a high-level performance and we could not achieve that.".
The coach continued, "The planning has not changed, we have to play with Bolivia and try to win, today this match makes me busy, then we will see what happens with the Brazil match."".
And Scaloni continued, saying: "What happened with the players coming to the camp cannot happen again, a decision must be made, we have an upcoming stop, we will meet with the federations and coaches to find a solution.".
And he continued, "At no point did we think that what happened in Brazil could happen, everything was strange, very strange.".
Scaloni continued:Glad people are back to watch the national team, unfortunately with limited capacity, but it's an amazing progress so the players can enjoy it, Cheering for the national team is unconditional, I always felt that feeling, I don't think it has changed, it's true that winning the title motivates more, it's something special".
We have a base of players, but we are always open to what Argentine football can offer us, we look at everyone.".
On the Bolivian national team, Scaloni said:We know Bolivia, they have good midfielders and strikers, they try to play good football, they are a tough opponent".
He continued, about the Premier League players: "I know that the players were ready (Emiliano, Buendia, Romero, Lo Celso) and they did the impossible to be here, but a decision had to be made. It happens again".
He continued, "The only team that managed to get all the players is us, FIFA urged the leagues to allow them to travel, we were in a completely good position."".
He concluded: "We are not concerned with what happened, we are only thinking about playing football, we are a very strong group and we must continue like this.We are a competitive team, a tough opponent, we can make things difficult for the best teams in Europe, if we are in the World Cup we will compete."