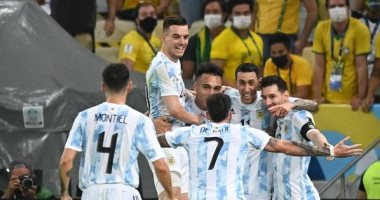 Argentina will visit Venezuela, at 2:00 in the morning, at the Olympic Stadium in the capital, Caracas, as part of the ninth round of South American qualifiers for the 2022 World Cup.
Brazil leads the qualifiers table, which includes 10 teams with 18 points, from winning all the previous six matches, 6 points ahead of the second-placed Argentina, while Venezuela is in the ninth and penultimate place with 4 points.
The Argentine national team included Lionel Messi, the newly joined Paris Saint-Germain team, after the expiry of his contract with Barcelona, ​​and he played his first match with the French team against Stade Reims last Sunday.
The Tango team list witnessed the coach summoning 30 players to the list, led by Messi and Di Maria. Paulo Dybala also returned to the Tango ranks after an absence of a year and 9 months since his last joining with his country.
As for the Venezuelan national team, the former coach of Al-Ahly club, Jose Peseiro, left his coaching several days ago, after the coach requested the termination of his contract with the Venezuelan Federation, to leave his position after a year and 6 months he spent as coach of the team.
And the International Football Association "FIFA" had announced the holding of two additional rounds of the 2022 World Cup qualifiers for the South American continent, during the international break in the coming months of September and October, and they were the two rounds that were supposed to be held last March (the fifth and sixth), and were postponed due to Corona virus crisis.