There are few books in the history of architecture as exciting as Learning from Vegas, the radical manifesto of postmodern reaction with which Denise Scott Brown, Robert Venturi and Steven Izenour taught us architects to value ugly and ordinary duck-shaped buildings. It was first published in 1972, 50 years ago. And its reading today, half a century later, is still revealing and furiously contemporary. So I told everyone I was going to Vegas to see if it was true what they said about "accepting illogicality and proclaiming duality", about "defending richness of meaning against clarity".
As soon as I arrived, with my luggage still in the trunk of the car, I went straight to the pawnshop on TV. "I don't know, Rick, it looks fake." Really? But if everything here is false! The whole city looks like a lie. The Las Vegas Strip functions as a grand stage set, an excessive and exuberant set, providing passers-by (or should I call them spectators?) with a hilarious synergistic relationship of spectacle and thematic architecture on a monumental scale that resorts to universally recognizable and confusing clichés. in a great urban salad of teleshopping low culture.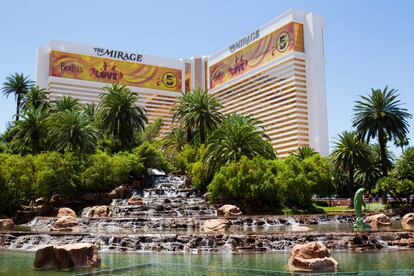 On both sides, the casinos offer a show unheard. The Mirage opts for rude Polynesian-style jungle motifs with a massive $30 million volcano at street level that erupts every quarter of an hour, while the Luxor proves that building pyramids and sphinxes in the middle of the desert never will go out of fashion. The Bellagio fountain draws with water and grotesque Lombard ostentation the voices of Luciano Pavarotti, Michael Jackson or Whitney Houston that emanate from the speakers and, just on the other side of the Strip, the Paris Las Vegas offers an all-you-can-eat buffet of decaffeinated Parisian architecture: the Arc de Triomphe, Place de la Concorde, the Opera Garnier and the Louvre façade tied together by the legs of a 165-meter-high Eiffel Tower (the real one is 324). "It's beautiful, simply beautiful", I hear a very young girl with an unmistakable Californian accent say. She and her boyfriend look up, hand in hand, endearingly enthralled by that mass of papier-mâché. "This is like being in France," he says.
Around the world in 80 casinos takes us to New York, New York, which presents itself with a concentrated hodgepodge of skyline of Manhattan wrapped with the red ribbon that draws a roller coaster whose wagons imitate the taxis of the Big Apple: 66 meters high, 44 of free fall, 108 kilometers per hour and the best 15 dollars invested in my life. "Fuck! The best fucking trip of my life!" yells some teenagers sitting in the taxi behind me. They liked it too, even though one of them has lost his cap in the meantime looping. Treasure Island represents the sinking of a galleon and a fierce naval battle between Pirates of the Caribbeanthe Excalibur organizes knightly tournaments in a medieval castle supposedly inspired by the court of King Arthur (but which reminds me more of the one in the Cinderella of Walt Disney World in Florida) and Caesars Palace reinterprets the classic architecture of the Roman Empire in a huge complex whose main entertainment center is the Colosseum, a forum with capacity for 4,100 people that has been home to resident artists such as Céline Dion, Elton John, Mariah Carey or Cher.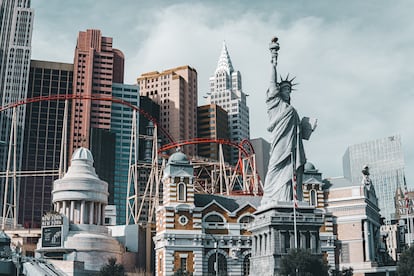 Architecture, in its most conventional meaning and image, is relegated to an invaluable background. Only the tower of the Trump Hotel, a sober shiny and golden prism like its owner's toupee, seems to provide a bit of measure and moderation in the midst of this architectural delirium. Yes, you have read correctly: the building crowned by those five letters, TRUMP, is presented as one of the most discreet and contained constructions in that painful kick in the mouth at "less is more" attributed to Mies van der Rohe. In Las Vegas, "less" is never enough.
It's only 11:43 in the morning and the thermometer on the phone tells me it's 38 degrees. How can you live in a place like this? "The good thing is that in here you don't have to worry about how hot it is out there," the receptionist at the casino hotel where I'm staying tells me in perfect Spanish. And she is right. The vast majority of these complexes are connected to each other by a network of underground passageways in the form of shopping arcades, so once you enter a casino, you can go from one to another without having to go outside. In fact, it is almost inevitable, since in all that labyrinth of gambling and waste it is absolutely impossible to find a sign that indicates the exit. Not even one. Why go out for air fresco of the torrid Mojave desert, when it's much better inside, with the air conditioning at a delicious 22 degrees? For a cigarette, maybe? No, it's not necessary. In Las Vegas, you can smoke anywhere. Here (almost) everything is legal.
This thermal fiction does not distract me from a breathtakingly terrifying inner spectacle. "I've been coming here for fifty years, but the atmosphere is no longer the same," laments an old man in a suit. cowboy bright burgundy red and sunglasses. My new friend calmly touches his mustache as he shrugs. "Vegas has no class anymore," he concludes. Indeed, it has long since ceased to be the city of celebrities of dubious moral court like Sinatra and his friends from the Rat Pack, elegant leaders of the underworld a la Bugsy Siegel and other classy urchins, to let themselves be conquered by noisy representatives of the silent majority. impatiently crowding into a gigantic bazaar of rigorously oiled slot machines to burnish their savings. There is an atmosphere similar to "a Saturday night anywhere in the world if the Nazis had won the war", as Hunter S. Thompson told Rolling Stone in his lysergic and wild odyssey to the heart of the American Dream in the early 70s. "This is the Sixth Reich", a kind of Disneyland for retirees, bachelor parties, junkies, hanged and drunk, crazy, vicious, broke gamblers and other distinguished members spokesmen for the moral bankruptcy of Western values. There are also families. In fact, there are many. Do you really have to subject children to this?
I wonder if all those people are really having a good time. Suddenly I get a little sad and… clack, clack, clack! A skinny guy with bloodshot eyes in who-knows-what snaps a handful of flyers that advertise shows full of human flesh. "Dare to make your dreams come true, friend!" she yells as he arches his eyebrows. In Las Vegas there is no time for melancholy.
I defy the anti-ecological pulse inside the casinos and go out into the street to confirm that hell does not smell of sulfur, but of 12 US fluid ounce (355 milliliter) cans of sparkling margarita with lime At some point it has become night. It's too hot, too many lights, noise and people around me to hear my own thoughts. Everywhere you look, everything is horrible. To my left I see a burger joint that promises heart attacks and dresses its diners in sick gowns and its waitresses in minimal nurses' uniforms. To my right, a toothless old lady kisses an Elvis impersonator, while her son (or her grandson) hands him a $10 bill. 10 dollars? That kiss is okay, at least one with the Ulysses S. Grant face. I look at him with contempt: "Elvis, you don't do that." She lifts her lip and waves her curly hand in greeting. shakaseeking my forgiveness. I don't return an ounce of compassionate empathy.
Las Vegas is doomed. But who cares? Of course, to the more than 40 million tourists who visit it every year, no. This city is the greatest urban monument to popular basic instinct ever built. A neon vomit that transgresses decades of conventions and shouts from the rooftops that another architecture is possible. And there is something hooking about it. I guess I'm tired of stories that show an artificial reality sifted with filters that sweeten reality. I am tired of a perfect world that is not perfect at all. We have to continue learning from Las Vegas.
Down with the monument and up with the entertainment!
Exclusive content for subscribers
read without limits