Arsenal ended the first half with a clean goal against its host Burnley, in the confrontation being held between them at "Turf Moor", as part of the fifth round of the English Premier League competitions "Premier League" for the current season 2021-2022..
Martin Odegaard scored the first goal for the Gunners in the 30th minute of the start of the first half and the match, from a free kick from outside the penalty area, which he played brilliantly through a direct path.
Martin Odegaard scored his first away goal in the Premier League for Arsenal.
Arsenal is in the 16th place in the English Premier League table with 3 points, while Burnley is in the 18th place with one point..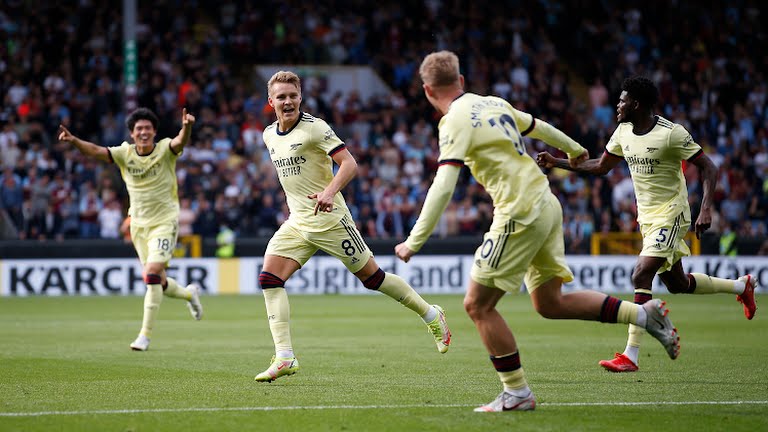 Arsenal coach Mikel Arteta entered the confrontation with a formation consisting of:
Goalkeeper: Ramsdell
Defenders: Ben White, Gabriel, Tomiasso, Tierney.
Midfield: Pepe, Origad, Thomas Partey, Smith Rowe, Saka
Attack: Aubameyang
Arsenal is missing in today's match the efforts of the Egyptian international, Mohamed Elneny, due to injury, as he is expected to return to the London team's training next week..
Arsenal, led by its Spanish coach, Mikel Arteta, seeks to achieve victory in today's confrontation, to continue the tone of victory that he started in the last round by beating Norwich City with a Gabonese goal, Pierre-Emerick Aubameyang, which is the first victory for the Gunners this season, after suffering three consecutive defeats..
Arteta is under pressure from Arsenal fans, after the team's poor start to the current season, and he knows very well that any new stumble in the upcoming matches, will plague him from the team's training, especially after he moved away from European participation this season, for the first time after more than 25 years..
As for the Burnley team, led by its coach Sean Dyche, it seeks to achieve the first victory this season, after the club renewed the coach's contract until the summer of 2025, ending the faltering start of the season..