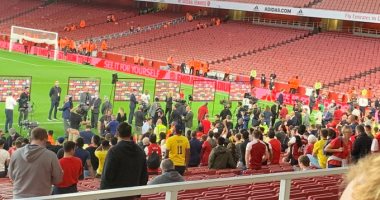 Arsenal fans mocked Tottenham coach Nuno Espirito Santo, after the Gunners beat Spurs 3-1, during the match that brought the two teams together this evening, Saturday, at the Emirates Stadium, the stronghold of the Gunners in the north London derby, at the top of the sixth round of Omar competitions. English Premier League competition.
During Santo's recording of a meeting with "Sky Sports" from the stadium immediately after the match, the Arsenal fans laughed at him, chanting: "Nono Santo, tomorrow you will be sacked."
That mockery of Santo forced the Portuguese coach to withdraw from the match stadium and leave the match before its end.
Arsenal
Emile Smith Rowe scored the first goal for the Gunners through a pass from promising Bukayo Saka, after only 14 minutes, and the second goal came through Pierre-Emerick Aubameyang in the 27th minute, before Bukayo Saka scored the third goal in the 34th minute.
In the second half, the score continued as it was until the South Korean star Son Heung-min reduced the difference for the Spurs in the 79th minute, ending the match with a 3-1 victory for the Gunners.
With this result, Arsenal occupies tenth place with a second consecutive victory with 9 points, while Tottenham is 11th with the same balance of points.