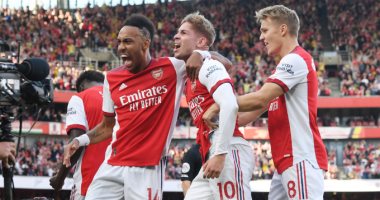 The professional Arsenal team, within its Egyptian international ranks, Mohamed Elneny, achieved many records, after its great victory over its neighbor Tottenham 3-1 during the match that brought the two teams together this evening, Sunday, at the "Emirates" stadium, the stronghold of the Gunners in the north London derby, in a summit The sixth round of the English Premier League competitions.
Arsenal vs Tottenham
The "Opta" network, which specializes in statistics and records, stated that Arsenal became the third team to achieve 600 victories in the Premier League era, behind Manchester United with 961 victories, and Chelsea with 601 victories.
Arsenal also finished today above Tottenham in the English Premier League table for the first time since October 25, 2020.
While Tottenham became the second team in the history of the English Premier League to win its first 3 matches in the season and then lose the next three, after Everton in 1993/94 (it ended the season in 17th place).
Arsenal vs Tottenham
Tottenham have conceded 3 or more goals in 3 consecutive matches in the Premier League for the first time since September 2003.
With this result, Arsenal occupies tenth place with a second consecutive victory with 9 points, while Tottenham is 11th with the same balance of points.
The Egyptian international, Mohamed Elneny, was left out of the Arsenal squad for the Tottenham match, as the Gunners played with the following formation: Aaron Ramsdale, Kieran Tierney, Gabriel Magalis, Ben White, Tomiasso, Thomas Partey, Grant Xhaka, Bukayo Saka, Martin Odegaard, Smith Rowe, Bear Aubameyang .