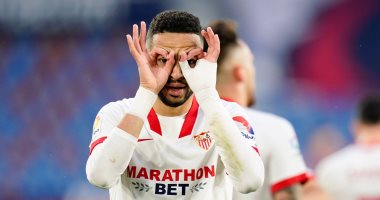 Arsenal is targeting the signing of Moroccan Youssef Al-Nusairi, the Spanish striker of Seville, during the next summer transfer period.
Moroccan star Youssef Al-Nusairi has been performing a distinguished performance with Seville, since he moved to the Andalusian team from Leganes in January 2020.
Youssef Al-Nusairi, the striker of the Moroccan national team, starred remarkably with Seville, scoring 24 goals in the first season out of a total of 52 matches, and scored two goals in a total of 3 matches he played in La Liga this season.
And according to the British newspaper, The Sun, the Arsenal administration has begun to set its eyes on the future replacement of Gabonese star Emerick Aubameyang, especially since the latter's contract will expire in June 2023.
She added, Youssef Al-Nusairi caught the attention of Arsenal officials, to support the Gunners attack next season.
It is expected that Gabonese Emeric Aubameyang will leave Arsenal, and the club is looking to sell him for a good money next summer, rather than leaving him for free after the end of his contract.
The newspaper concluded that Arsenal will face a strong rival from West Ham, in order to include Moroccan Youssef Al-Nusairi.