It was customary during the Holy Mawlid season of the Prophet, for the preacher to present his fiancée with a gift of the Mawlid bride with a box containing different pieces of Mawlid sweets from Samsiya, Homsieh, and other different types. Where she designed a bouquet for the birthday cake that the fiance could give to his fiancée.
sweet bouquet
Aseel Kamal, a graduate of commerce in the English language department, spoke about her work selling roses and food, as she said during her speech to "The Seventh Day": "I worked very many things while I was in the first year of university, but my love for roses started when I was in my preparation, I loved organizing and coordinating it. And this encouraged me to work in the sale of roses, and indeed I opened a shop of my own, and I began to develop bouquets and make a bouquet of them for different dishes.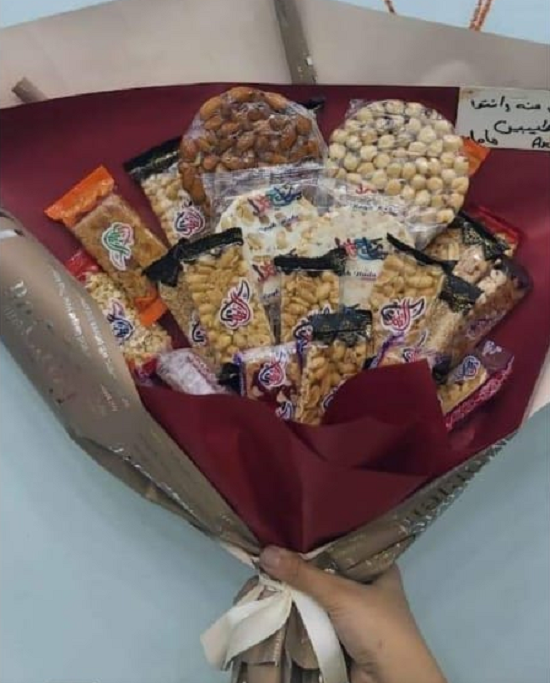 Another sweet bouquet
And she continued: "On the occasion of the birth of the Prophet, and because he is with the schools, and the demand for rose bouquets is very little, I thought to do a different and new need away from the traditional gifts of the birthday, such as the halawa and bride bouquets, and I made sweet bouquets of the birthday."
Concerning the shapes and prices of the Halawat al-Mawlid bouquet, Aseel said, "The shape of the Halawat al-Mawlid bouquet is determined by the customer. I mean, he wants a bouquet for 200 pounds, and I buy the sweetness and adjust the bouquet, or the customer chooses the shop himself who wants the sweetness from it, or he will let me work as the bouquet myself and buy the sweetness, and there are customers who love the bouquet. Its colors are calm and they like different colors and so on according to the customer's taste."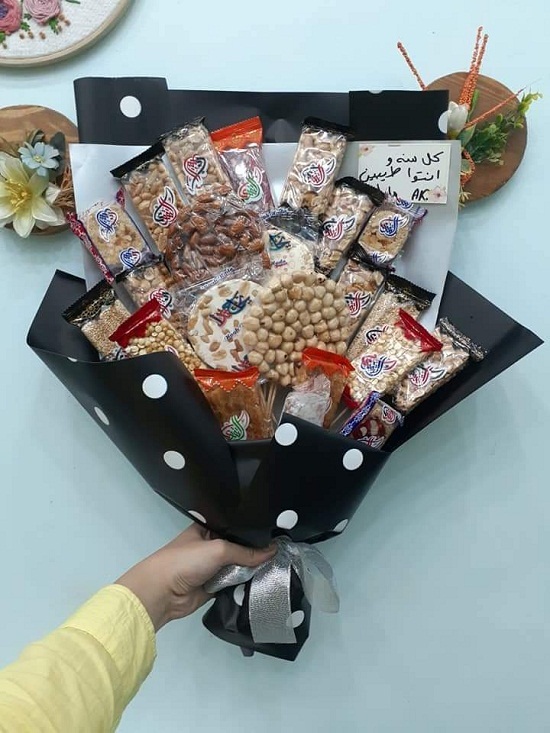 Sweet Mouled Bouquet
During her speech, Aseel pointed out that her customers who request the design of the Halawat al-Mawlid bouquet are different, including a preacher to gift his fiancée a bouquet or a mother to her children, and so on.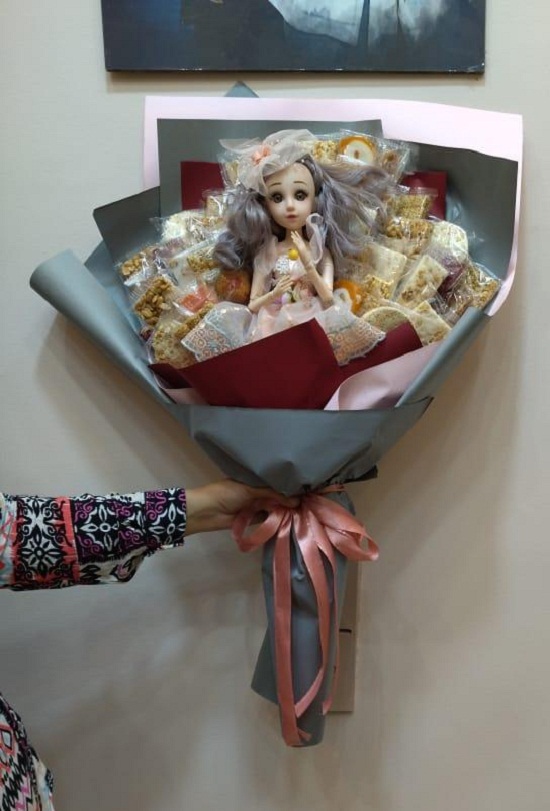 Another bouquet
Although the idea is unconventional, it was easier to implement than others, and she said, "There are no difficulties that met me while I was designing a sweet bouquet for the birth, because it does not look like chocolate and you can sit for days, but it may be a little heavy."
And about the requests for strange bouquets that she asked from Aseel, she said, "The most strange bouquet I asked of was a flower, a bride, and a watch, and I actually implemented it, but regarding the birth of the Prophet, no one asked me for a strange or different bouquet, but the new year that I made is a bouquet that contains the sweetness of the birth and a bride." .
Aseel dreams that her project will become known at the level of the Republic, where she said: "I myself have a shop and a large team that designs bouquets and gift boxes, and I know all the governorates of Egypt, but before that I want to prove myself in my first governorate before I open branches in the other governorates."