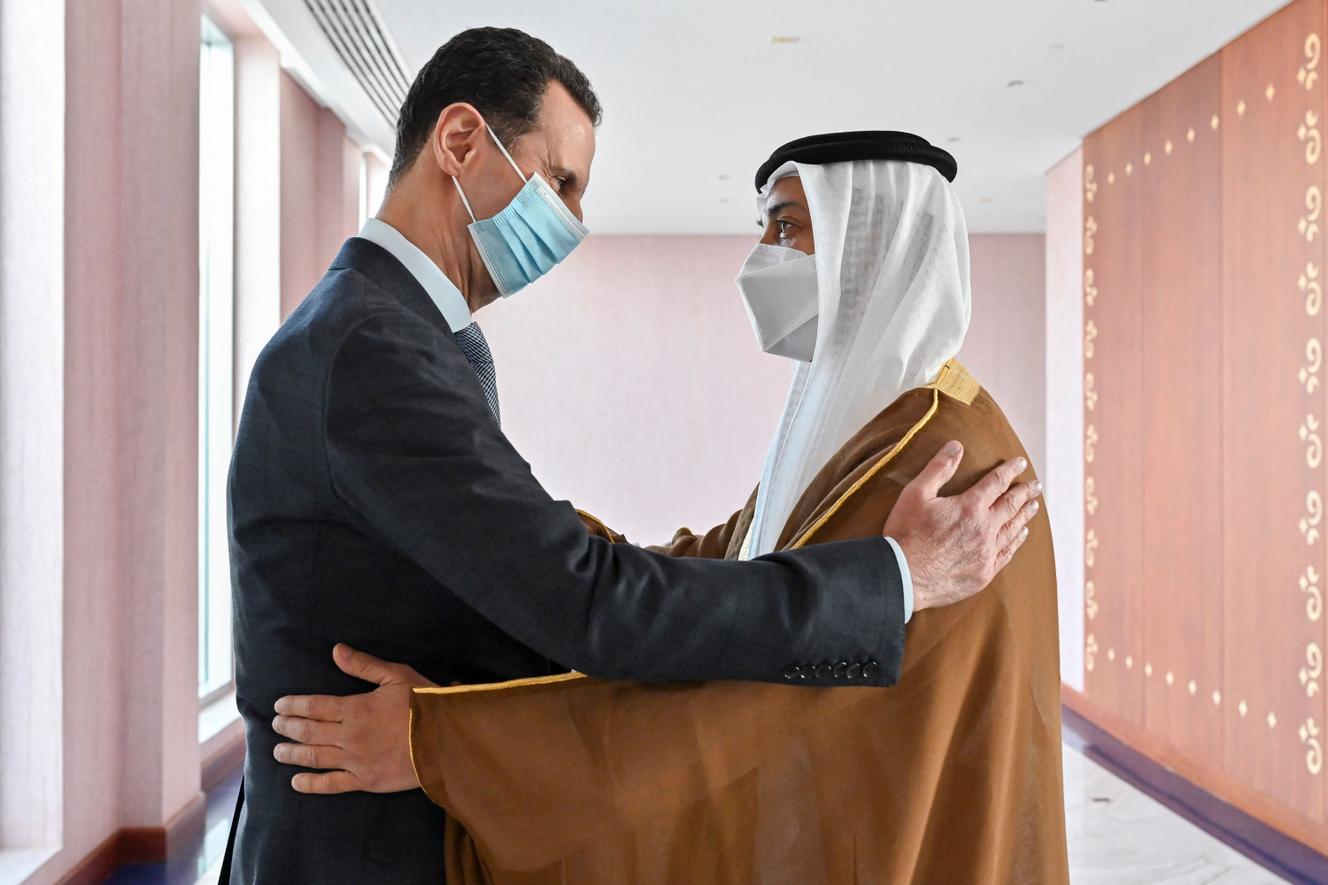 This is his first visit to an Arab country since the outbreak of the uprising in 2011 which almost cost him his seat: Syrian President Bashar Al-Assad visited the United Arab Emirates (UAE) on Friday March 18, where he spoke with the de facto ruler of this petromonarchy, the Crown Prince of Abu Dhabi, Mohammed Ben Zayed. This trip is an important step towards the reintegration of the master of Damascus on the Arab diplomatic scene.
Treated as a pariah by the vast majority of chancelleries on the planet, which blames him for the destruction of his country and the responsibility for hundreds of thousands of deaths, Bashar Al-Assad had so far only left Syria since 2011 for brief visits to Russia and Iran, its two main allies, whose military aid was crucial in crushing the revolution. A bitter coincidence for Syrian opponents, the trip to the Emirates of their executioner came two days after the celebration of the eleventh anniversary of the start of the revolt, on March 15, 2011.
Read also
Article reserved for our subscribers

The White Helmets of Syria, to life and death
Washington, whose relations with the Emirates have cooled significantly in recent months, due to marked differences over the war in Yemen and the Iranian nuclear file, criticized this trip in unusually strong terms. State Department spokesman Ned Price said the United States was "deeply disappointed and troubled by this apparent attempt to legitimize" Bachar Al-Assad. "We urge states contemplating a rapprochement with the Assad regime to reflect carefully on the atrocities committed by this regime against Syrians over the past decade," he said.
"Brotherly Relations"
In Abu Dhabi, the capital of the UAE, where the Syrian president was received by Mohammed Ben Zayed, known as "MBZ", the two men discussed the "fraternal relations" between their countries, according to a statement from the Emirati news agency Wam. The text claims that the two leaders insisted on "the preservation of the territorial integrity of Syria and the withdrawal of foreign forces""MBZ" qualifying Syria as a "essential pillar of Arab security".
Pro-Iranian Shiite militias, dispatched by Tehran to reinforce the regular army, are deployed in Syria, to the great displeasure of the Gulf powers, in particular Saudi Arabia and the Emirates, which have constantly denounced, ten years, the interference of Tehran in the affairs of the Arab States. It is these "foreign forces" that Wam's press release targets above all, even if several other non-Syrian combat units are present in the country: Russians, Turks in the Idlib region (Northwest) and Americans in the Kurdish areas of the northeast.
You have 50.66% of this article left to read. The following is for subscribers only.