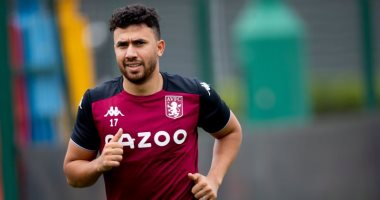 The English club Aston Villa celebrated the 27th birthday of our Egyptian star Mahmoud Hassan Trezeguet, which falls on Friday, October 1 of each year, coinciding with the approach of the Egyptian winger to return to training after a cruciate ligament injury.
Aston Villa published a picture of Trezeguet on the club's official page on Twitter, and wrote: "Happy Birthday Trezeguet."
Trezeguet continues the rehabilitation program to recover from the cruciate ligament injury he suffered in the knee last season and kept him away from participating with his team and the Pharaohs since last May.
The Egyptian star is racing against time to catch up with the Pharaohs battalion that is running the African qualifiers for the 2022 World Cup, which is also preparing to participate in the African Cup of Nations expected to be held next year in Cameroon.
Mahmoud Hassan "Trezeguet", the star of the Egyptian national team and the English club Aston Villa, celebrates his 27th birthday today, Friday. He played a major role in qualifying the "Pharaohs" for the World Cup that was held in Russia last year, after an absence of 28 years.
happy birthday, @Trezeguet! 💜 pic.twitter.com/xEdd3qnL0F

— Aston Villa (@AVFCOfficial) October 1, 2021