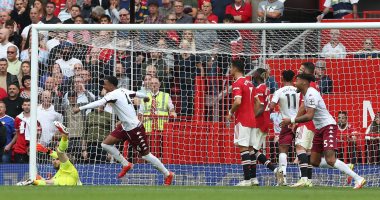 Manchester United star Cristiano Ronaldo suffered the loss of his team at the hands of Aston Villa, and the fans of the Aston Villa team mocked the loss of Man United, and a video of fans spread on social media platforms imitating Cristiano Ronaldo's celebration when he scored goals.
The video shows a group of Aston Villa fans after the end of the match outside the walls of the "Old Trafford" stadium, the stronghold of the "Red Devils". High "Seeeeeeee", like what Cristiano does, according to the site RT.
Вот так фанаты «Астон Виллы» отпраздновали победу своей команды над «МЮ» прямо возле «Олд Тра🤣орда»

Криштиану не оценит 😡 pic.twitter.com/k4IaD8UcwT

— Eurosport.ru (@Eurosport_RU) September 26, 2021
This comes as the Portuguese star, Cristiano Ronaldo, player of Manchester United club – earlier – was keen to send a message to the fans after his team's defeat against Aston Villa, in the sixth round of the English Premier League, at Old Trafford.
Ronaldo published a picture of him from inside Old Trafford, through his personal account on the "Instagram" website, and said: "This is only the beginning, and every important point in the strong competition in the English Premier League, we must play to win, stand up and show our true strength."