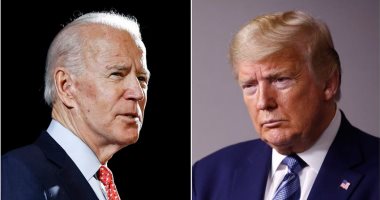 In a message on New Year's Eve, US President Donald Trump recalled his accomplishments and described them as "historic victories", while President-elect John Biden spoke in a tone of optimism and looking forward to the future..
After pledging over weeks to win his jihad to stay in office, Republican Trump said in a video on Twitter, "You should remember us for what we have accomplished."".
Trump has yet to concede his defeat in the November election to his Democratic rival. He returned to Washington early from his resort in Florida amid a battle with Congress over a defense bill and a subsidy package to mitigate the impact of the Corona crisis..
As for Biden, during a speech from Delaware, he praised health workers and encouraged people to receive the protective vaccination during a short appearance with his wife on a special lengthy program on ABC on New Year's Day..
Biden, who officially takes office on January 20, said, "I am absolutely certain – certain – that we will return … but we will come back stronger than we were."".
He repeated his call for the vaccines to be distributed more quickly.
Trump, who was infected with Covid-19 in October, has often played down the seriousness of the pandemic and oversaw the way he dealt with the disease, which many health experts criticized and described as lacking organization, being arrogant, and sometimes ignoring the science and logic behind the transmission of the virus..
But Trump indicated in his statements that the United States had produced a vaccine that prevented Covid-19 in record time and that his hunch that this would happen before the end of the year was correct..
The United States is one of the countries most affected by the pandemic and tops the list of deaths resulting from it, as the number exceeded 340,000.
Trump was originally scheduled to spend New Year's Eve at his resort in Mar-a-Lago.
The White House did not provide a reason for Trump's early return to Washington, but it coincides with his battle with Congress for his use of the veto to block a major defense bill and his request to increase subsidies to mitigate the effects of Covid-19 in addition to the escalation of tension with Iran..
On Wednesday, the leader of the Republican majority in the Senate, Mitch McConnell, delivered a strong blow that could put an end to Trump's attempts to raise the value of subsidies to those affected by Corona, as he declined to set a date for an urgent vote on a bill to raise the amount of the subsidy to 2000 dollars instead of 600, within A $ 892 billion aid package approved by Congress this month.
* Tension with Republicans
Republicans in Congress have been overwhelmingly supportive of Trump during his four years in office, but he criticized them in recent days for not showing him full support, as he unsupported him against rigging the elections and rejecting his demand for a greater review..
McConnell refused again to vote on a bill that would increase subsidies for Americans, saying it served the rich, describing it as "a very bad way to help families who really need aid." The Democratic-dominated House of Representatives passed the bill on Monday.
McConnell also said that there should be nothing controversial in approving the defense policy budget of $ 740 billion, which Trump has objected to because it does not remove specific legal protections for technology companies..
Republican Senator Josh Holly pledged on Wednesday to challenge Biden's victory in the presidential election when Congress convenes on January 6 to officially count the electoral college votes, which could trigger a prolonged debate in the Senate, even if the chances of nullifying the result appear to be zero..
Some Republican senators have supported the increase in payments, including David Purdue and Kelly Loeffler, who are facing re-election in Georgia on January 5 that will determine which party will dominate the Senate under Biden..
Meanwhile, tension between Iran and the United States has escalated again.
On Thursday, Iranian Foreign Minister Mohammad Javad Zarif accused the United States of trying to find a pretext to launch an attack on his country and pledged that Tehran would defend itself even though it was not seeking war..
"President Donald Trump and his entourage are wasting billions to send B-52s and fleets to our region. Information coming from Iraq indicates a plot to fabricate an excuse for war," Zarif said in a tweet on Twitter.".
Two American B-52 bombers flew over the Middle East on Wednesday in what US officials described as a message of deterrence to Iran ahead of the first anniversary of the killing of its prominent military commander, Qassem Suleimani, by a US drone strike on January 3, 2020..