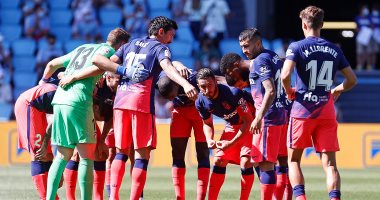 Atletico Madrid will visit Espanyol at 2:00 pm today, Sunday, at the "Power 8" stadium, as part of the fourth round of the Spanish League "La Liga" for the current season 2021-2022.
Atletico Madrid enters today's match, occupying fifth place in the Spanish league standings with 7 points, with a goal difference from the leaders Real Madrid, before playing the Celta Vigo match yesterday, while the Catalan team occupies the sixteenth place with two points.
Atletico Madrid (the title holder), led by Argentine coach Diego Simeone, seeks to win and continue to compete for the title, especially in light of the strong reinforcements it concluded during the summer transfer season, most notably Rodrigo de Paul from Udinese, and Brazilian Matthews Konia from Hertha Berlin, and finally restoring services French Antoine Griezmann on loan from Barcelona.
It is expected that Griezmann will make his first appearance with Atletico Madrid in today's match, as he is expected to participate even if he starts the match from the bench.
Portuguese striker Joao Felix is ​​ready to participate with Atletico Madrid, after he overcame the surgical intervention on his right ankle on July 2, which led to his absence from the first rounds of the league.
Today, Sunday, 3 other matches will be held in the Spanish League, where Osasuna meets Valencia at 4:15 pm, Cadiz will face its guest Real Sociedad at 6:30 pm, and finally Real Madrid returns to play at the "Santiago Bernabeu" stadium at 10 pm when it hosts Celta Vigo.