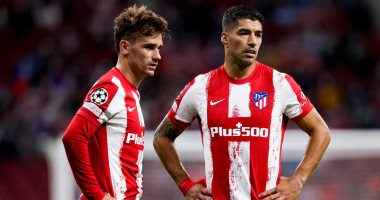 Uruguayan Diego Forlan, the former Atletico Madrid striker and the only player to win the Golden Boot in the club's history in 2009, confirmed that it would be "tough" for his compatriot Luis Suarez and French Antoine Griezmann to score goals in the Barcelona match, which will be hosted by the Wanda Metropolitano Stadium in the eighth round. From the Spanish Football League "La Liga".
Forlan made statements, before the celebration of the La Liga ambassadors in Madrid, in which he said: "It would be tough if they scored. They are two players who are able to score and play well and they want to prove this and play in the best possible way, especially when you play against this opponent, this always motivates you." .
Forlan played several matches against Barcelona in the Atletico Madrid shirt, and commented this, saying: "It is always a beautiful match, this kind of matches, playing in your stadium and in a wonderful stadium Coanda Metropolitano, and the return of the public are all beautiful things."
The former Uruguayan striker believes that the match "will be difficult for both teams", and despite Atletico Madrid's advantage over Barcelona, ​​he believes that "it will be very equal".
In this context, Forlan added: "Barcelona is only two points away, and if it wins, it will surpass Atletico Madrid in points. Barcelona has good players, even if it is going through a bad managerial time."
Atletico Madrid did not appear well in the past matches, despite its strong attacking arsenal of Luis Suarez, Griezmann, Joao Felix and Angel Correa.
Forlan believes that these players need time and adapt together, noting that Griezmann recently returned to Atletico Madrid, along with Suarez's return from the Copa America.
Forlan praised Sergio Aguero, saying: "I think it's a good deal, at the moment he is a player with great experience and knows the Spanish league, even if he is playing for the first time in Barcelona. We hope that he recovers well from injury, I think he can contribute "A lot in the club. He is a great player with great attacking potential and is able to bring more calm that Barcelona needs."