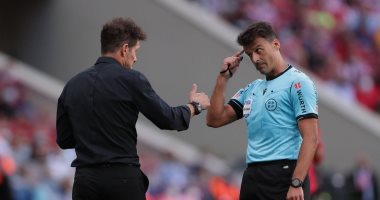 Atletico Madrid coach Diego Simeone expressed his satisfaction with the performance of his players, despite the draw against his guest, Athletic Bilbao, in the match that brought the two teams together, Saturday evening, in the fifth round of the Spanish League competition "La Liga" for the current season, It was held at the Wanda Metropolitano.
After the match, Simeone said about Joao Felix's dismissal, "I haven't seen the shot yet, I have no doubts that he entered the match very well and that's what matters to me."
And about Joao's reaction after the expulsion, Simeone said, "This happens to any football player, I did the same many times and I was not in line with what I should get, but as I got older I was correcting."
And about his conversation with the referee of the meeting, Simeone, Simeone said, "I told him that he should only be calm, he came and warned me that you cannot tell me to calm down, I am calm."
And the absence of goals? Simeone said, "I will not look for excuses this can happen in football, I trust the team and the players we have and we will work so that the players score goals."
He continued, saying about getting a lot of yellow cards: "Yes, there are a lot of yellow cards, sometimes you have to talk during the match with the referee and not take out a yellow just by asking a question.".
On the performance of his players, he explained: "I really liked the team, although we did not have many chances. Powell improved, Lodi improved, Kondogbia stabilized despite being hit, but he was very good. These are the steps to follow for what comes.".
He concluded, "The second half was good. We played for a long time in the opponent's court. The speed increased, and we defended very strongly against a fast team. We continue to work and improve.".
Atletico Madrid

The first half of the match witnessed a strong performance characterized by club and enthusiasm from Atleti and Bilbao, and both of them arrived on more than one occasion, but they did not manage to score any goals in the first 45 minutes.
In the second half, Atlético Madrid tried to score the winning goal, but to no avail, and the match ended in a goalless draw.
Atlético Madrid's Joao Felix was sent off in the 78th minute for objecting to the referee after receiving a yellow card.
With this result, Atletico Madrid, led by coach Diego Simeone, occupies the top spot in the Spanish league standings with 11 points, one point ahead of Real Madrid and Valencia, who meet on Sunday at the Mestalla stadium, while Athletic Bilbao occupies fourth place with 9 points.