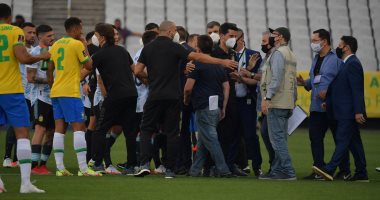 Argentine Angel Correa, Atletico Madrid striker, described the suspension of the Brazil-Argentina match in the qualifiers for the Qatar World Cup 2022 as "crazy", noting that the players present at the stadium "did not believe what happened", as elements of the Ministry of Health stormed the match stadium and decided to suspend it after Only six minutes from launch.
The match was held on September 5, and in the sixth minute, elements of the Brazilian National Health Supervision Agency stormed the stadium and objected to completing the match because four Argentine players provided false information in their immigration documents. Romero and Giovanni Lo Celso, Tottenham duo.
In an interview with Koya with (EFE), he expressed his dissatisfaction with the suspension of the Super Clasico between Argentina and Brazil, explaining that the specialists had not told them before that there were four players who violated the health protocol.
In this context, he said: "It was crazy, we did not believe what was happening with these people entering the stadium and suspending the match. The four players came from England and got permission to participate, because in the event of something opposite, the coach would have excluded them."
And Correa expressed his happiness for winning the Copa America with the Argentina national team, noting that all the players were happy for their captain, Lionel Messi.
In this context, he added: "Winning the Copa America in Brazil and against Brazil in the way that it happened was unique. I think the whole team and the coaching staff went down in history, and we felt a great joy. We were very happy for Messi because of all he has achieved and is still achieving in football. But he hadn't achieved anything yet with Argentina."