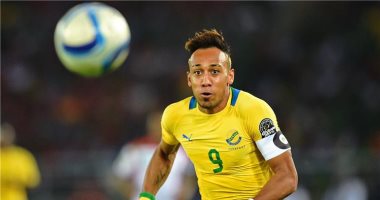 Emerk Aubameyang, captain of the Gabon national team and Arsenal striker, confirmed that everyone is ready to play a big match against Egypt, in the important match scheduled for 9:00 pm today, Sunday, in the second round of the African qualifiers for the 2022 World Cup in Qatar.
Aubameyang said, in statements to the official website of the Gabonese federation, "We will give our utmost on the field against Egypt, facing the Pharaohs of the type of matches that you like to participate in as a player."
Regarding the collision with Egyptian star Mohamed Salah, Aubameyang said, "This is the first match that I have played against Mohamed Salah at the national team level."
Egypt's national team, led by Hossam El-Badry, enters at nine o'clock this evening, Sunday, a strong confrontation when it meets with the Gabon team at the Franceville Stadium in the second round of the African qualifiers for the 2022 World Cup..
Egypt opened its campaign in the 2022 World Cup qualifiers by defeating Angola at the Air Defense Stadium, as part of the first round matches of the sixth group of African qualifiers for the 2022 World Cup. Mohamed Magdy "Afsha" scored the only goal of the meeting from a penalty kick in the fourth minute.
The victory raised Egypt's balance to three points in second place behind Libya, which led with a difference in goals, while Gabon's balance froze at none of the points in the last place..
The expected line-up for the Egyptian national team against Gabon appears to be composed of::
Mohamed El-Shennawy in goalkeeping, Mahmoud El-Wensh, Ahmed Hegazy, Ahmed Tawfiq and Mohamed Abdel-Shafi in defense, Tariq Hamed, Amr El-Sulayya, Ahmed Sayed Zizou, Mohamed Magdy Qafsha and Mohamed Salah in the middle, and Mohamed Sherif in attack.