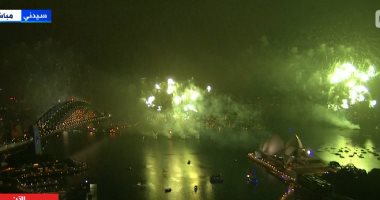 Sydney, Australia, has become the second city around the world to celebrate turning the page on 2020 and welcoming the new year 2021, by launching fireworks displays over the city's famous landmarks.
New Zealand welcomed the New Year 2021 as the first country of the year, by firing fireworks from the "Sky Tower" in the capital, Auckland.
In France, when the clock strikes, announcing the beginning of the new year, the curfew will be in effect, but the French intend to celebrate eating what is delicious of food instead of inviting large numbers of friends, at a time when they cannot celebrate in bars due to Corona.
In an open market for foodstuffs in Paris, Rachid Belhaireich, a seafood seller, said that the volume of orders is smaller than usual, but customers choose luxury foods such as lobsters (lobsters) and oysters. "Because the number will be small around the table, people buy luxury items."
France has recorded the largest number of cases of Coronavirus in Western Europe, and the fifth largest in the world.
And the nationwide night curfew from 8 pm until 6 am will apply on New Year's Eve as well, and the government says no more than six adults should congregate around a single table.
At a fine-dining store, the manager would bring packages of foie gras and truffles for groups of two or three people at most.