Many diseases are exacerbated by the advent of autumn, especially with the decline in temperatures and high levels of humidity, which is a suitable environment for the growth of pathogenic bacteria. Therefore, we must follow some precautions and instructions necessary to avoid a worsening of the health situation during this time of the year.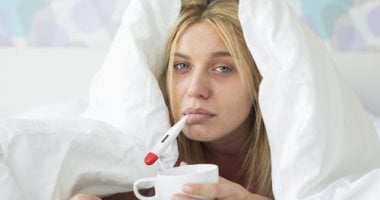 According to a report published in Healthline, we address the most important diseases associated with the fall season, including:
1: Influenza and Viral Infections:
The end of autumn is usually accompanied by epidemics of viral infection, often influenza and its unpleasant symptoms.
2: angina pectoris:
Infections that enter the oral cavity are deposited on the tonsils, so an inflammatory process occurs and, as a result, the risk of angina pectoris increases.
3: cystitis:
Autumn weather can deceive you, so wearing some summer clothes exposes them to hypothermia and cystitis.
4. Laryngitis:
Many of us are exposed to annoying infections in the throat and larynx, which you find pain and difficulty when swallowing, and you may suffer from a hoarse and low voice.
5. Dermatology:
Cases of dermatitis and skin diseases occur quite often, and this is due to a decrease in the body's defenses and an increase in the activity of microorganisms that cause disease.
6. Digestive disorders:
Exacerbation of chronic diseases of the gastrointestinal tract results from a sharp change in diet, as well as a less active biological cycle of the body during the autumn season.
7. Allergic reactions:
During the fall, people take refuge in the house, which exacerbates allergies with an increase in the amount of dust and chemicals inhaled.
8. Inflammation of the kidneys:
Often the cause of this disease is hypothermia in the lumbar region or prolonged sitting on cold surfaces.
9. Autumn depression:
It occurs as a result of hormonal changes related to the biological clock that changes mood, with a decrease in sunlight, which leads to feelings of depression and a decrease in activity and energy.
Experts recommended some tips to prevent autumn diseases, including:
1. Get influenza vaccine Avoid crowded places.
2. Wash hands often with soap and water and avoid touching surfaces.
3. Treat your sinuses and take vitamins to boost your immunity.
4. Lots of liquids and hot drinks.
5. Be sure to gargle with water in a preventive manner and take warm drinks to prevent the causes of angina pectoris.
6. Wear warm clothes to prevent cystitis and diseases of the genitourinary system and kidneys.
7. Avoid sitting in cold rooms for long periods of time.
8. Follow a healthy diet, monitor the condition of stool and body temperature.
9. Rooms must be ventilated, and contact with potential allergens should be avoided.
10. Try to be exposed to the sun during the early morning and exercise in the fresh air to relieve symptoms of seasonal depression.