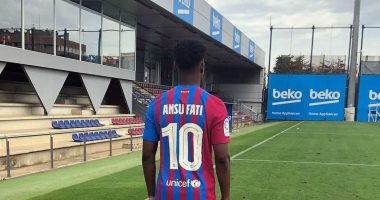 Striker Ansu Fati participated in Barcelona's group training for the second time in a row, to shed light on the rising star, who will inherit the No. 10 shirt for Barcelona from Argentine Lionel Messi, who moved to Paris Saint-Germain.
However, Ansu Fati is not expected to be called up for the team's next match on Monday against Granada at the Camp Nou.
After the players had a rest day, the team returned to training under the leadership of Dutch coach Ronald Koeman, and the effects of the heavy defeat at the beginning of Barca's Champions League campaign against Bayern Munich at Camp Nou (0-3) are still clear to everyone, but the team will try to overcome it by achieving a victory in La Liga restores morale.
Jordi Alba and Pedri, who were both injured in Barca's last match against the German team, did not participate in the training.
The full-back suffers from an injury to the right hamstring muscle, while the young midfielder is complaining of pain in the left front thigh muscle.
The French central defender, Samuel Umtiti, also missed the training, due to a public complaint.
The trio joins the long-injured attacking trio, Ousmane Dembele, Sergio Aguero and Martin Braithwaite, who on Thursday underwent surgery on his left knee that will keep him out of action for a period of three to four months.