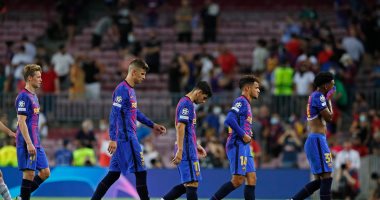 The Spanish club Barcelona will host its counterpart Granada tomorrow evening, Monday, at the Camp Nou, in a strong and exciting confrontation between the two teams in the fifth round of the Spanish League.
The Catalan newspaper, Mundo Deportivo, stated that Barcelona will face the three teams that were the main reason for losing the league title last season, namely Granada, Cadiz and Levante.
In its report, the newspaper described the three clubs as "ghosts" for Barca, as Ronald Koeman's men lost 8 points out of the last 18 in La Liga, against these teams and were a major reason for losing the title.
Barcelona will play a fiery confrontation after the international break next October, with Benfica in the Champions League, then Atletico Madrid, Valencia, Dynamokiev, and Real Madrid.
In a related context, Barcelona midfielder Philippe Coutinho is preparing for his first chance with Barca in the Spanish League during the current season 2021-2022.
And the Spanish newspaper "Sport" said that Barcelona coach Koeman will give Philippe Coutinho the opportunity to appear for the first time this season in the Spanish league against Granada.
The newspaper added that the Dutch coach, Ronald Koeman, Barcelona coach, will return to the 4-3-3 plan against Granada, after he was criticized greatly by the Barca administration headed by Joan Laporta, after he played the previous Blaugrana matches with a 3-5-2 plan, which failed and led to the humiliating loss against Bayern. Munich with three goals in the opening of the Champions League campaign.