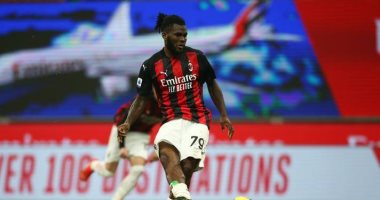 Barcelona entered the race to sign Ivorian star Frank Kessie, AC Milan midfielder, in light of the player not renewing his contract with the Rossoneri, which expires in the summer of 2022.
The Italian website, Calciomercato, stated that Barcelona would be among those interested in including Casey, in the event that his Milan contract was not renewed, especially in light of the disagreement between the two parties over the terms of his new contract.
And the Italian newspaper, "La Gazzetta dello Sport", had indicated that Casey had rejected the latest offers from the Milan administration to extend the player's contract, worth 6.5 million euros per season, which would make him leave the club soon, and it may be in January because he did not leave in the summer for free. .
The newspaper added that Paris Saint-Germain is the most interested in the inclusion of the Ivorian midfielder, in light of his refusal to renew his contract with the Rossoneri, especially since his contract with Milan expires in June 2022.
The Ivorian star wants to receive 7 million euros, in addition to bonuses, while Milan's offer is a 5-year contract with an annual salary of 5.5 million euros, which will increase the rewards to 6.5 million euros.
Casey has been in solitary training since the beginning of the current season after refusing to extend his contract, as he did not play any matches with Milan during the current season.
The Ivorian player joined the Milan team in the summer of 2017, coming from the Atalanta team, and played 184 games with the team in all competitions, scoring 30 goals and providing 15 assists.