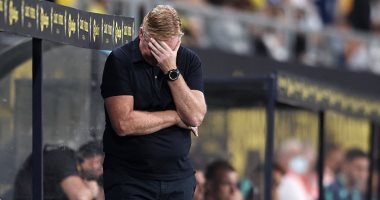 Spanish press reports revealed that Barcelona lost its confidence in the Dutch coach, Ronald Koeman, due to the lackluster results achieved by the Blaugrana under his leadership, and that his dismissal from the Barca training became a matter of time.
And according to the Spanish newspaper "AS", Koeman, who seemed confused in the Cadiz meeting, lives these days amid uncertainty, anger and helplessness, and does not know when the club will take the final decision to dismiss him.
The newspaper added that in the past two weeks, Koeman noticed that he had become more confused since his arrival in Barcelona, ​​​​because of his knowledge that the Catalan club's management intends to leave him from coaching the team.
The Spanish newspaper indicated that Xavi Hernandez, the legend of the team, is the most likely candidate to take over the technical leadership of the Catalan club, during the coming period.
Koeman took over the training of Barca after the catastrophic defeat of the Catalan club by eight goals against two goals against Bayern Munich in the previous version of the Champions League.
Ronald Koeman led the Barcelona team to crown the Spanish Cup, while he was eliminated early from the Champions League by Paris Saint-Germain, and finished third in the league table last season.