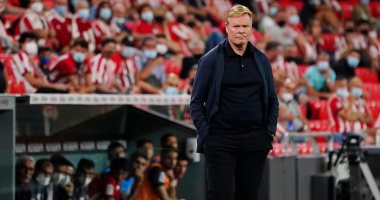 The future of Dutch coach Ronald Koeman, coach of Barcelona, ​​​​is still current in Catalonia, after the humiliating loss that the team suffered against Bayern Munich, by three clean goals, last Tuesday evening, in the first round of the Champions League group stage for the new season 2021-2022.
The Spanish newspaper "Sport" reported that the regular meeting of the Barcelona Board of Directors, which was held today, witnessed the demand of several board members for the immediate departure of Dutch coach Koeman, after the loss he received from Bayern Munich.
The newspaper added that these members believe that the Dutch coach can no longer lead the team, and his future with Barca is getting more complicated.
The Catalan newspaper, Mundo Deportivo, had earlier indicated that the Barcelona administration had announced its full confidence and belief in Dutch coach Ronald Koeman in continuing as a coach for Barca, despite the fall against Bayern Munich.
She added, that the Barcelona administration believes that it is not the right time to judge the level of the team under the leadership of Koeman, especially in the absence of a large number of key players, and the reliance on young talents.
Barcelona president Joan Laporta decided to wait until the team's ranks were completed with the return of the main players, in order to hold Koeman accountable.