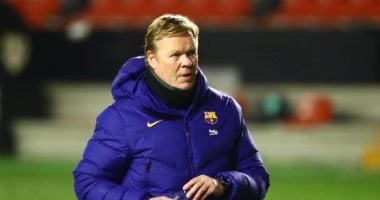 Barcelona president Joan Laporta is considering renewing Ronald Koeman's contract with Barca, which expires in June 2022.
The Catalan newspaper, Mundo Deportivo, reported that the Barcelona administration offered to renew his contract with Ronald Koeman for a season until June 2023, but according to 3 conditions, namely winning titles, adhering to a 4-3-3 plan, giving the opportunity to the duo Ricky Puig and Samuel. Umtiti.
Barcelona news today

In the same regard, Radio Catalunya indicated that Ronald Koeman's contract with Barcelona will be automatically renewed, in the event of winning the Spanish League and the Champions League in the new season.
It is worth noting that Barcelona is in fourth place in the Spanish league standings, with 7 points, combined from two wins and one draw.
On the other hand, Frenchman Antoine Griezmann sent a message to Barcelona fans, after officially moving to Atletico Madrid on the last day of the summer Mercato yesterday, Tuesday.
Barcelona news today

And Atletico Madrid officially announced yesterday evening, Tuesday, the return of Barcelona striker Griezmann, for a season on loan, with the option to buy for 40 million euros at the end of the season.
Antoine Griezmann wrote, through his personal account on the social networking site "Instagram", "Dear Barcelona fans, I leave today and I am grateful to you for all the support, I gave everything for this shirt."
The Atletico Madrid striker added, "I was part of this wonderful club, and I am leaving today sad, because I can no longer enjoy your presence in the stands, but I am proud that I was one of you, long live Barca!"
Barcelona news today

The official account of the Spanish League announced the transfer of French international striker Antoine Griezmann to Atletico Madrid from Barcelona on loan for one season with the right to purchase.
The official account of the Spanish League, via Twitter, confirmed the arrival of the player's official papers within the specified time.