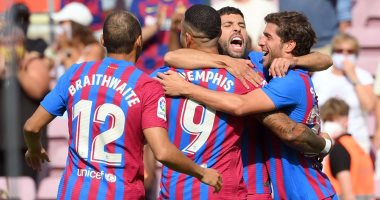 Press reports revealed today, Saturday, that Barcelona is planning this period to resolve the future of Dembele, Pedri and Ansu Fati after the closure of the transfer market, in order to ensure their future with the team in the coming years..
And the newspaper "Mundo Deportivo" confirmed that, with the return of Matteo Alemani and Ramon Blanes from their vacation, the focus will be on 3 strategic renewals in order to consolidate the foundations of the new Barcelona.
And the newspaper added, there are three players who want to renew their contracts, sooner rather than later and with a strategic goal, and they are Ansu Fati, Osman Dembele and Pedri Gonzalez..
The main goal is to speed up the renewal of Dembele, especially since his contract with the Catalan club expires in June 2022, and there is no optional clause through which it can be automatically renewed..
She added that Ansu Fati had already been talked about and had been told that if he wanted to, the club was about to conclude a long contract for him because it is seen as a motto for the short, medium and long term, where Fati wants to continue, and as a sign of his commitment, he recently obtained the number 10 Who Left Messi Free.
And she continued: "As for Pedri, although his contract can be extended for another two years unilaterally, Barcelona also want to give him a new five-year contract to prove to him that they believe in him and that there is certainty that he can have a long career with the club. Catalan.