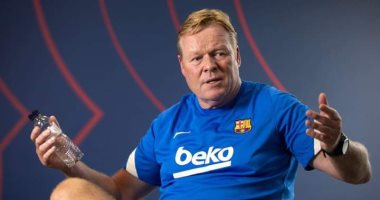 Barcelona president Joan Laporta refused to comment on the statement of Dutch coach Ronald Koeman, coach of the Blaugrana, during the press conference before the Cadiz match, which will be held tomorrow, Thursday, in the competitions of the political round of the Spanish League competition.
The Dutch coach, Ronald Koeman, surprised everyone with a 3-minute statement, and then left the press conference for the Barcelona-Cadiz match, in a breach of press conference protocols in La Liga.
According to the Catalan newspaper "Sport", the Barcelona president refused to make any comment, in response to what Dutch coach Ronald Koeman said at the Cadiz match conference, and preferred to remain silent at the present time.
She added, that the Barcelona administration did not know the intentions of the Dutch coach, Ronald Koeman, about making a statement at the Cadiz match conference, and I recommended the Barcelona communication department not to do so and to attend normally, but the Dutch coach insisted that he did not want to submit to questions to avoid misunderstanding, And he wanted to explain in his own words, well explained, what he was feeling now.
Barcelona coach Koeman said, in his statement, "The FC Barcelona staff and Barcelona players are happy with the support they received, especially during the Granada match. The current staff needs unconditional support, and these problems do not occur for the first time in the club."
He continued, "Barca is currently going through a special economic and sporting situation. As a team, we have to rebuild the football team without any big economic expenses."
He continued: "The young players who are present, we will rely on them in the future, and they must have their chance, as Iniesta and Xavi had."