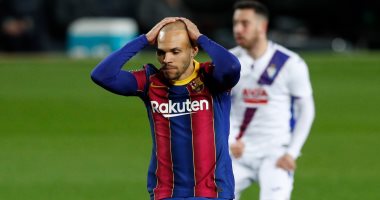 Barcelona star Martin Braithwaite, according to the club's management statement before the last international rally, suffers from a left knee injury he suffered in the Getafe match in the third round of the Spanish League.
And the Catalan radio "rac 1" confirmed that the Barcelona striker will be absent from training and official matches for a period ranging from 3 to 4 months.
The player participated in the first 3 matches in the Spanish league with Barcelona and scored two goals in the first match against Real Sociedad at the "Camp Nou".
And she revealed shocking news within the Barcelona first team about the length of the striker, Martin Braithwaite, due to injury.
In a separate context, Barcelona team officials begin the plan to renew the contract of the young star Ansu Fati, the Barca winger, which ends in June 2022, and according to the Catalan newspaper "Mundo Deportivo", the Barcelona administration trusts the renewal of the contract of Ansu Fati, especially since the young talent wants to stay. within the ranks of the Catalan team in the future.
Barcelona adheres to Ansu Fati's future stay at the "Camp Nou" stadium, where he sees the future of the Blaugrana after the departure of Argentine legend Lionel Messi and Antoine Griezmann.