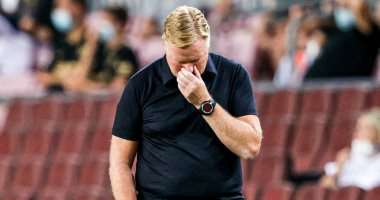 Barcelona coach Ronald Koeman confirmed that Barca deserved a draw against its guest Granada, in the confrontation that ended 1-1 on Monday evening, at the "Camp Nou", in the fifth round of the Spanish league competition "La Liga" this season. 2021-2022.
Koeman said, in his statements after the match, "We deserved a draw, we deserved to score an early equalizer, but it did not happen. If that happened, it would have changed a lot in the match," adding, "You cannot be happy with a draw in your stadium and in front of your fans."
Koeman added: "Before the match, we aspired to win and achieve the three points, but after the bad start that we started with, and after the opponent deliberately wasting a lot of time, we could not achieve what we aspired to."
He continued, "The opponent team closed all the spaces and narrowed our playing, we played on cross passes in order to outperform them," explaining, "The audience will not be happy with the result of the tie, not from the team's position and the level it presented."
Koeman added, "It is necessary to highlight the level of the team, his reaction, the character he showed and his fight to the last minute," adding, "The officials in Spain must change what is happening, a lot of time is wasted, this must be changed urgently, it cannot continue like this." .
Barcelona raised its score to 8 points to occupy the seventh place in the table of the Spanish League, while Granada comes in the seventeenth place after raising its score to 3 points.
Barcelona had suffered a heavy defeat against Bayern Munich 0-3 in the match that was held on Tuesday evening at the Camp Nou as part of the Group E matches of the Champions League for the current season 2021/22..