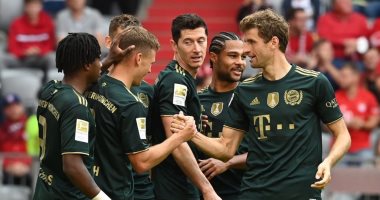 Bayern Munich set many records, after it swept its counterpart Bochum by 7-0 in the match that brought them together on Saturday evening, at the Allianz Arena, as part of the fifth round of the German Bundesliga competitions for the current season 2021-2022..
Bayern Munich
And the "Opta" global network specialized in statistics and records, stated that Bayern Munich scored 7 or more goals in a Bundesliga match for the third time since the beginning of the 2016/17 season, as follows: 8 against Hamburg (2016/17), 8 against Schalke (2020/21), 7 v. Bochum (2021/22).
Bayern Munich coach Julian Nagelsmann also led his team to score 20 goals in his first 5 matches with Bayern Munich from the Bundesliga, equaling the record for a new coach in a club after five matches of the tournament, previously achieved by Idris Juncker in 2011 (Bayern Munich) and Ado Latik in 1970 (Bayern Munich).
Bayern Munich
Leroy Sane opened the Bavarian goals in the 17th minute, and Joshua Kimmich added the second goal in the 27th minute and the sixth in the 65th minute of the match, while Serge Gnabry scored the third goal in the 32nd minute.
The fourth goal came after Vasilis Lampropouls scored an own goal in the 43rd minute, Robert Lewandowski scored the fifth goal in the 61st minute, and Eric Maxim Moutinj scored the seventh goal in the 79th minute.
With this result, Bayern Munich took the lead in the German League with 13 points collected from 5 matches, awaiting the stumble of its opponent, Wolfsburg, the runner-up, with 12 points.