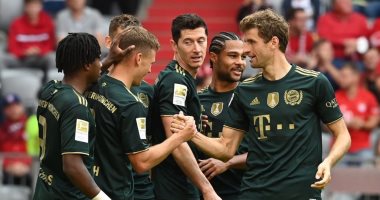 Bayern Munich will host a heavy guest on Grotter Fürth, at 8:30 pm, today, Friday, in the opening matches of the sixth round of the German League competition, season 2021-2022, at the Ronhof Sport Park.
Bayern Munich plays the match of Gruether Fürth, which is at the top of the German league standings with 13 points, while Wolfsburg is runners-up with a goal difference, while Gruether Fürth is at the bottom of the table with one point.
Bayern Munich is looking forward to continuing victories in order to continue at the top of the German League standings, in light of the fierce struggle with Wolfsburg, which occupies the runner-up with a goal difference.
Despite the ease of the match for Bayern Munich, Bavarian coach Julian Nagelsmann refuses to underestimate the Grooter Fürth team in the match, in order to secure the three points and be the first in the Bundesliga.
Bayern Munich beat Bochum 7-0 in the fifth round of the German Bundesliga competition last Saturday.
Bayern Munich coach Nagelsmann revealed, in a press conference, the position of Jamal, Syala and Serge Gnabry from participating in the match against Grotter Fürth today.
"Both Serge and Jamal can play, but we have to wait and see how they react to the injury," said the Bavarian coach.
Nagelsmann added, "We will also play in the Champions League in a few days. We will not risk anything superfluous and the probability that both will play from the beginning is very small."
On his opponent, Grotter Fürth, Nagelsmann commented, "We need to be ready for a tough fight and an opponent who defends deeply. We are obviously the favorites to win but certainly this is not enough."
He continued, "We need the three points, as this is the only way we will be able to follow up on our goal of winning our 10th title in a row, certainly we will not underestimate any of our opponents."