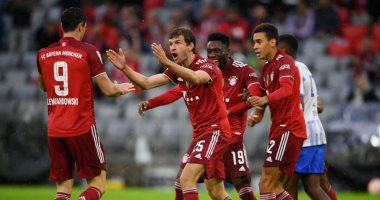 Bayern Munich will visit its counterpart Leipzig at the Red Bull Arena, in a strong match between the two teams at 6:30 pm today, in the fourth round of the German League competition.
Bayern Munich enters the meeting with high spirits, after the last victory against Hertha Berlin, with five without a response, to be in third place in the table with 7 points, as Bayern won two games and drew one.
On the other hand, Leipzig did not provide the expected performance so far, as the team suffered a loss twice during the first 3 rounds of the Bundesliga's life only, with the red bulls collecting 3 points that made them tenth place.
The Bavarian is preparing for this match with full force and high concentration, as the team aspires to achieve victory in order to enhance its score of points to continue defending its title for the tenth consecutive season.
While he is fighting fiercely to avoid losing points and returning to the path of victories and the right path since the beginning of the season, he will try as hard as possible to get the full mark.
Bayern suffers from some absences, and according to recent reports, Kingsley Coman left the France team and returned to Munich after being injured in a previous calf. He is expected to miss the Leipzig match, but he may be ready to meet Barcelona in the Champions League.
While Alphonso Davies suffered an injury in Canada's World Cup qualifier match against America, the injury caused some concern before sources close to the player confirmed that the injury was not serious.