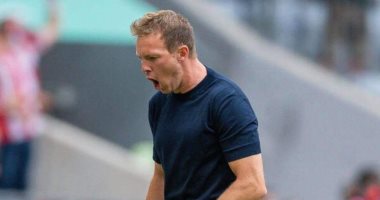 Bayern Munich coach Julian Nagelsmann confirmed that his goal is to crown the Bundesliga title and complete the legacy of his predecessors in the Bavarian coach, after beating Bochum 7-0 in the match that brought them together on Saturday evening, at the Allianz Arena in the fifth round of confrontations. From the German Bundesliga for the current season 2021-2022.
"He has played many matches, Gnabry and Sane are back in good shape, Jamal is very tired and needs rest, he does not have the experience to play every now and then, we don't want to put too much pressure on him," Nagelsmann said in comments after the match. ".
The coach continued, saying about Koeman's situation: "We talked yesterday, he has a little pain in the groin, he is happy that everything is over and it was nothing serious, it was difficult for him to work normally, after a few minutes of running fast, his pulse was high and we performed A performance diagnosis and a heart scan, there was no risk of anything bad happening."
On the match, Nagelsmann said: "I am happy with the result and the way we played, we had some problems in the first ten minutes, but then we controlled the game, in the last third we could have played the last pass a little better, the way we finish in the penalty area can be Much better, I was impressed by the team's hunger and determination not to enter any goal, we are definitely on the right track."
Bayern Munich

And about Yuri Sane, he said: "For the fourth time in a row, he played in the half of the field between 8 and 10, everyone needs a good relationship with the coaching staff and the fans, to narrate remarkably well and we will enjoy a lot with him in the future."
He concluded, "Our goal is to win the tenth German title in a row, I want to continue the legacy of those who preceded me."
Leroy Sane opened the Bavarian goals in the 17th minute, and Joshua Kimmich added the second goals in the 27th minute and the sixth in the 65th minute of the match, while Serge Gnabry scored the third goal in the 32nd minute..
The fourth goal came after Bochum's Vasilis Lambropols scored an own goal in the 43rd minute, Robert Lewandowski scored the fifth goal in the 61st minute, and Eric Maxim Choupo-Mutinig scored the seventh goal in the 79th minute..
With this result, Bayern Munich took the lead in the German League with 13 points collected from 5 matches, while its rival, Wolfsburg, runner-up with 12 points, stumbled against Eintracht Frankfurt on Sunday evening, while Bochum's balance stopped at 3 points in the seventeenth and penultimate place.