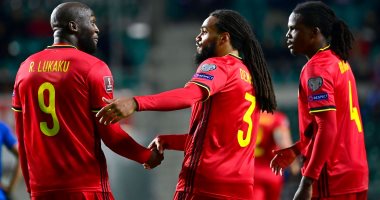 Belgium will host the Czech national team, at 9:15 pm, today, Sunday, at the "King Baudouin" stadium in the capital, Brussels, as part of the fifth round of Group E of the European qualifiers for the 2022 World Cup.
Belgium is at the top of Group E with 10 points from 4 matches, while the Czech team is in second place with 7 points.
In the last round, Belgium defeated Estonia 5-2, while the Czech team defeated Belarus 1-0.
Belgium, led by duo Romelu Lukaku and Eden Hazard, is looking to win and move away from the top of the group, and get closer to qualifying for the 2022 World Cup, after it ranked third in the last World Cup in Russia 2018.
As for the Czech team, it is seeking to continue its awakening in the recent period, which was concluded by qualifying for the eighties at the last European Nations Championship "Euro 2020", where, under the leadership of its star Patrick Shaik, he performed a great performance.
The Czech national team has not been able to qualify for the World Cup finals since the 2006 World Cup in Germany, when it was eliminated from the group stage.
Within the same group, the match between Belarus and Wales will also be held today at three in the afternoon, while Estonia will not play in this round.