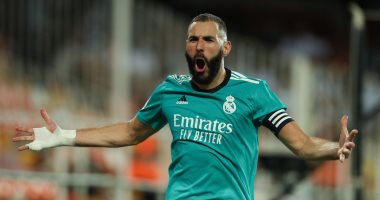 Real Madrid's French striker Karim Benzema confirmed that every match the team plays is like a final, after the deadly victory over Valencia with two goals against a goal, to be at the top of the Spanish League, in the match that brought the two teams together at the "Mestalla" stadium, in the fifth round of the competition. La Liga for the current season.
Benzema said, in statements after the end of the match: "Every game for us is a final, we deserved the three points, we will continue as we are, we will play every match as if it is a final, today we won and we will continue like this."
He added: "I'm fine and I hope to continue like this, the most important thing is that the goals were important to the club, it is early to talk about our control of the League, but we must continue as we are, every game is a final and today we won."
And the French star continued: "I think it was an important match, we played it as a final against the strong Valencia at home, until the end all the players participated in this victory. We won and settled the three points."
On the impact of the benches in achieving victory, Benzema said: "We always need those who come from the bench to make a difference and come in well, as is the case against Inter Milan, the bench made the difference today."
He concluded by saying, "Every three days, we play a game away from home. It is difficult and requires mental work. Today we showed our character."
Young Hugo Douro scored Valencia's goal in the 66th minute with a powerful left-footed shot from inside the penalty area, after Lucas Vazquez missed the ball.
Brazilian Vinicius Junior scored the equalizer for Real in the 86th minute, taking advantage of Karim Benzema's pass, to return the French star and score the deadly winning goal from a header in the 89th minute.
With this result, Real Madrid is at the top of the Spanish league standings with 13 points, two points behind runner-up Atlético Madrid, who drew negative on Saturday evening with Athletic Bilbao, while Valencia's balance stopped at 10 points in third place.