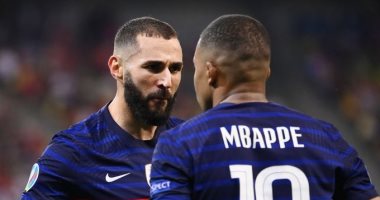 Real Madrid striker Karim Benzema wished his compatriot Kylian Mbappe, the current Paris Saint-Germain winger, to move to Real Madrid this season.. Real Madrid made 3 strong offers for Paris Saint-Germain to include Mbappe in the last summer Mercato, the last of which was worth 200 million euros, and all of them were rejected..
Benzema said about his wish during his interview with the network "Telefoot" French television, "I wish Mbappe had moved to Real Madrid this season, his transfer was delayed, but he will wear the Meringue shirt one day."
Karim added, "But as I said before, one day or another he will be at Real Madrid".
On returning to Lyon, Benzema said: "It is very special, because I have never played in this new stadium, to return to my city, where it all began for me..
The Real striker talked about the level of the France team, saying, "There is nothing to worry about, we have to adjust the speed, manage our efforts, as well as play vertically for the ability to overcome the opponent.".
Benzema is currently in the France national team camp, to compete in the World Cup Qatar 2022 qualifiers in Europe..
Mbappe will continue with Paris Saint-Germain this season, which is his last in his current contract, and if it is not extended, he will leave on June 30, 2022..
Immediately after the end of the current year, Mbappe will have the right to negotiate or sign for any club starting from January 1, 2022, which Real Madrid seeks to benefit from by obtaining his signature, to include him in a free transfer deal at the end of the season..
newspaper revealed "ABC" The Spanish club announced that Real Madrid is preparing a 6-year contract to obtain the signature of Mbappe, which includes granting him an annual salary of 30 million euros..
The newspaper confirmed that Mbappe's salary could rise to between 34 and 40 million euros, and the contract includes additional incentives that enable him to obtain money other than his basic salary if some of the stated goals are achieved..