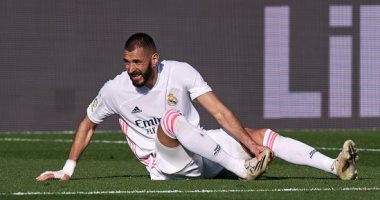 French striker Karim Benzema missed the group training of his Real Madrid team, who returned to training today, Friday, after a day of rest after winning a clean goal against Milan at the start of his Champions League campaign.
And two days before visiting Valencia in the fifth round of the Spanish Football League, the striker, who fought against Milan in full, trained inside the gym, but there is no medical report on him, so if he participates in the group training tomorrow, Saturday morning, it means that he will be available to Italian coach Carlo. Ancelotti.
But this will not be the case for his compatriot Ferlan Mendy, who worked again in the gym and trained alone on the grass, as he did not completely finish recovering from the injury he suffered on May 11 last.
Also trained inside the gym are German Toni Kroos, Welshman Gareth Bale and Spaniard Dani Ceballos, who are continuing to recover from his injury, as well as Mariano Diaz, who has no official information about his suffering from injuries or pain.
There is also no information about the development of the condition of the Brazilian Marcelo, who felt a tingling in the right leg in training on Monday, which prevented him from traveling to Milan for the Champions League match, and he did not appear in training today.