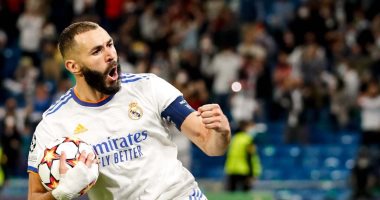 Real Madrid striker Karim Benzema topped the list of the most participating French players in the Champions League matches in history, after his recent participation in his team's match against Sheriff Tiraspol of Moldova in the second round of the group stage, which Real lost 2-1.
Karim Benzema participated during his career with the French Olympique Lyon and Real Madrid in 132 matches that put him far in the lead from his closest rivals in the continental championship from his French colleagues.
The official website of the European Football Association "UEFA" highlighted the list of the 10 most French players participating in the Champions League throughout history, which witnessed the presence of Zinedine Zidane, the former Real Madrid star and coach, in the tenth place with 82 games.
The list of the top 10 players participating in the Champions League from the French players is as follows:
132: Karim Benzema (Lyon, Real Madrid).
115: Thierry Henry (Monaco, Arsenal, Barcelona).
111: Patrice Evra (Monaco, Man United, Juventus).
96: Claude Makelele (Nantes, Real Madrid, Chelsea).
89: Franck Ribery (Bayern Munich).
87: Mikael Silvestre (Inter Milan, Manchester United, Arsenal and Bremen).
87: Gael Clichy (Arsenal, Manchester City and Basaksehir).
85: Raphael Varane (Real Madrid and Manchester United).
83: Florent Malouda (Lyon, Chelsea).
82: Robert Perez (Marseille, Arsenal, Villarreal), Zinedine Zidane (Juventus, Real Madrid).