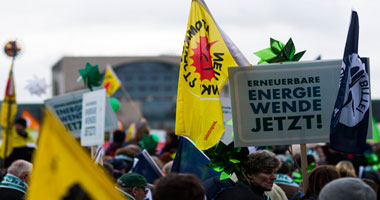 In the year 2020, the German capital Berlin witnessed a number of demonstrations and citizens taking to the streets to express their anger, in an unprecedented manner, and never before, as movements called "Lateral Thinking" were launched, as well as the "Black Lives Matter" movement and farmers who turned against agricultural policy .
Since the start of the epidemic, there were 5,360 outdoor gatherings by the end of November, an increase of 193 from the previous year.
According to the police on which the report was based, most of the 27,000 protesters marching in the streets of Berlin in January turned against the agricultural policy, as the demonstrators followed the call of the organizers on January 18, with 170 tractors, in favor of organic farming, animal welfare, insect-friendly landscapes and global solidarity.
According to the police, the second largest gathering in August was the Lateral Thinking event "End of the Epidemic": Freedom Day "with the participation of 20,000 people. According to other sources, the Lateral Thinking Show ranked first on August 1.
Lateral thinking demonstrations against Corona policy were just small drivers of contagion such as those of the "Black Lives Matter" movement. While their demonstrations have been welcomed by politicians and the mainstream media, demonstrations by so-called "side thinkers" are viewed critically.
Various reports were also made regarding the number of participants in Lateral Thinking presentations. Using the tool, Correctiv, she calculated the number of participants in the Lateral Thinking Walk, "End of the Pandemic – Freedom Day" with 173,600 people on August 1st.
"Even if many other people join the march at a later time, the number of participants of 500,000 or more is not realistic," she continues.
According to police statistics, people who may have been on their way to the event were not included.
Meanwhile, Michael Balwig, founder of the Lateral Thinking Movement, called on people to respect the ban on gatherings in Berlin at the start of the year. Lateral Thinking should use the winter season to "gather strength for spring."