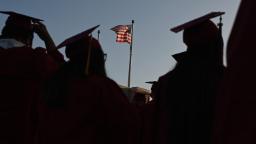 The current administration has been taking steps to address the
backlog of more than 100,000 forgiveness claims
left over from the Trump administration. In its latest move, the Department of Education said Friday that it is canceling about $55.6 million, approving claims from 1,800 borrowers who attended either the now-defunct Westwood College, Marinello Schools of Beauty or the Court Reporting Institute.
Known as Borrower Defense, the policy allows students who were defrauded by their college to seek debt relief. The forgiveness process was simplified during the Obama administration when big for-profit colleges like Corinthian and ITT Tech shuttered.
The department has since reversed DeVos' changes under Education Secretary Miguel Cardona.
The Department of Education said Friday that it found that Westwood made widespread misrepresentations about the ability of students to transfer credits and whether its criminal justice program would lead to careers as police officers in Illinois — where law enforcement agencies would not, in fact, accept Westwood credits in their hiring processes.
At Marinello, students were misled about what instruction they would receive, the department said. Between just two to six percent of students graduated from the Court Reporting Institute, where they were often misled about how long it would take to finish the program.
Some Democrats are pushing for broad debt forgiveness