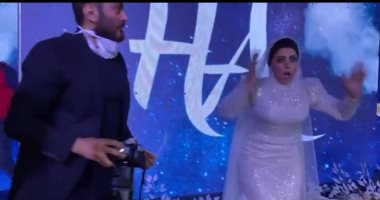 Blogger Aya Makram broke her silence to respond to the attack she was subjected to after the spread of a video clip of her wedding, during which the star Tamer Hosni, who topped the social networking sites, surprised her, after her reaction that sparked controversy, especially in a clip that pushed her to a little girl from the stage.
Aya published, through her account on the "Instagram" website, a video showing the stampede of a large number of attendees on the stage, explaining the details of her reaction, saying: "I think this video is the biggest evidence and people want to focus very much on the attack that happened on the stage, from photographers and many people, and when we saw The view is me and Heim telling my niece to come down quickly."
And she continued, "Look, see, and judge for yourself. If you saw your daughter in a place under attack like this, what would you do? This is my niece and I am more afraid of her than you, and I think the video proves this.
While the blogger Ali Ghazlan supported her through the comments, saying: "Leave people's words.. be happy and complete your joy. The day was beautiful and your joy and your quarrel were more beautiful.. people are not looking for the sweet. ".
As one of her friends wrote: "The last thing you worry about is people's words. Be happy and happy. You are a bride and your day was beautiful, God willing. Negative and spiteful people throw them behind your back."